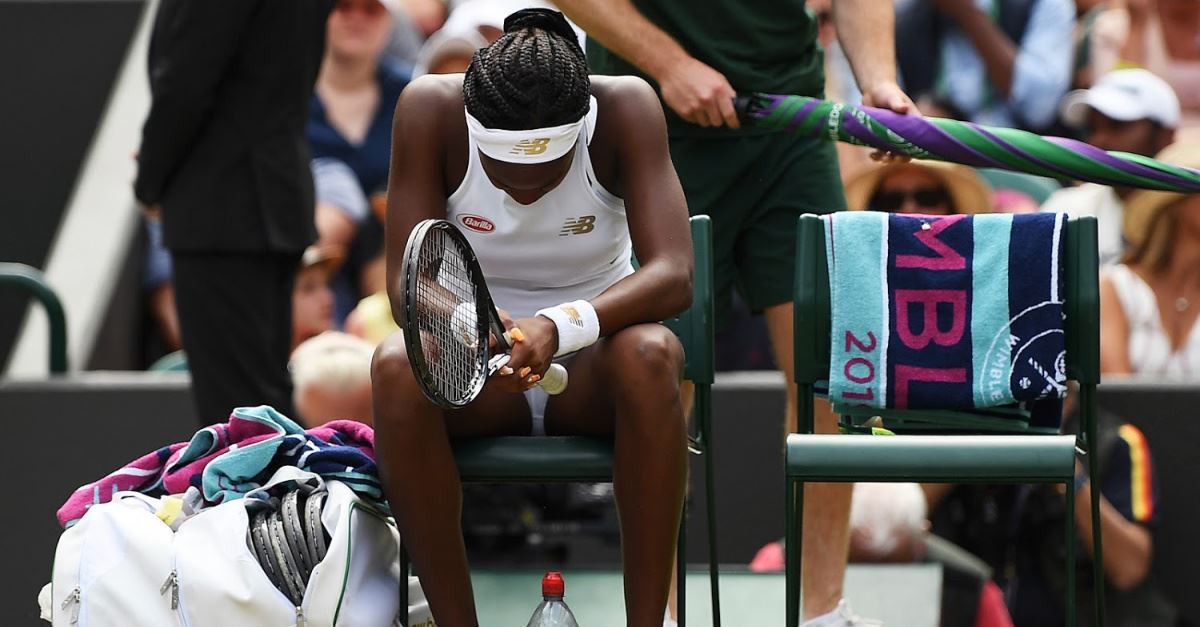 While several of the championship US women's soccer team were celebrating "pride month" and cursing America and the President, a very different message was coming from one of their teammates--Tobin Heath.
Sensational 15-year-old American tennis player Coco Gauff was playing and praying and thanking people for their good deeds---and winning against the best players in the world at Wimbledon---including Venus Williams.
Be encouraged.
Prayer at Wimbledon.
Scott Slaton
says,
"The United States found its latest tennis sensation last week as 15 year-old Cori Gauff advanced to the 4th round of Wimbledon. Gauff, nicknamed 'Coco' entered the tournament as a wild card and was ranked #303 in the world.
She says her tennis story started when she was 8 years old. Her father, Corey, and her mother Candi had both been college athletes at Georgia State and Florida State.
They told her they would support her in whatever sport she chose to pursue. She chose tennis. She says her decision was influenced by Venus and Serena Williams---two sisters that have dominated the sport, worldwide, for years.
The New York Times
did a special profile on the 15-year-old where they asked her about the most important legacy her father had instilled in her.
She said,
"Before every match since I was 8, my dad and I say a prayer together," explaining that the prayer isn't asking God to help her win, but rather an expression of thanks to God and of dependence on Him.
She said, "We don't really pray about victory, just that me and my opponent stay safe...prayer isn't a part of a strategy for success."
She and her parents did not expect her to be invited to Wimbledon this year---she's 15 and very good---but they believed it would come in the future.
In fact, she and her dad were on their way to a tennis academy in southern France when they received the phone call inviting her to Wimbledon to play in the qualifying tournament.
They turned north and went to England to play for the sport's greatest prize.
She won all three of her qualifying matches in straight sets and earned the right to play in the main event.
Coco's first match was against---you guessed it---Venus Williams.
Gauff says she tried to forget who she was playing against and just focus on her own game---it was difficult. "On the court," she says, "I was not thinking about Venus. I was just playing my own game."
Her "own game" was impressive. She beat Venus Williams, stunning the tennis world---and probably Venus as well.
As the two players walked to the net at the end of the match---which is traditional, the two stood and talked for a moment. The press wanted to know what was said.
Coco says she just wanted to tell Venus how grateful she was for her. As they shook hands at center court, she told Williams, "Thank you for everything you've done for the sport...you've been such an inspiration for many people...I was just telling her thank you."
As the world watched, Gauff went back to her chair, clutched her racket and cried. She says she was just "thanking God for this opportunity."
She advanced to the fourth round of the tournament, where she lost to the former top player in the world, Simona Halep.
She'll be back.
Praising God in New York.
With a lesbian coach and several lesbian players, the US Women's Soccer team all but turned their World Cup championship parade in New York City yesterday into a so-called "Gay Pride" event, with star player Megan Rapinoe--- who has been cursing the President and saying she hates America---leading the way.
However, there is another, sweeter voice on the team, expressing praise to God for His blessings.
Tobin Heath
, one of the US team's starters, had a very different message. She posted on Instagram: "All glory to God."
Heath was a part of the previous championship teams as well. She's also a three-time Olympian helping Americans win gold medals in the 2008 and 2012 Games.
Heath helped win three NCAA titles with North Carolina and currently plays professionally for the Portland Thorns.
She's a winner.
She's also a devout follower of Jesus Christ.
She regularly speaks openly about her relationship with God, because she realizes that He has given her a platform to speak to many.
She says she grew up in a Christian home---"Our family was just passionate about Jesus...I had a great experience growing up," but she had to accept Jesus as her own personal Savior.
Tobin says:
"It's about Him being known and not in a way that forces it upon other people but in a way that lets people know how He's transformed my life and how He's given me purpose and meaning and love and satisfaction...Our God's going to be victorious. He's the Creator of the universe. I'm just a vessel trying to do my part with what I've been given."
Thankfully, her commitment to the Lord, and that of young Coco Guaff reflects the commitments of many high profile athletes. May God bless them as He uses them for His glory and honor.
Be Encouraged. Be Grateful. Be Faithful. Be Blessed.