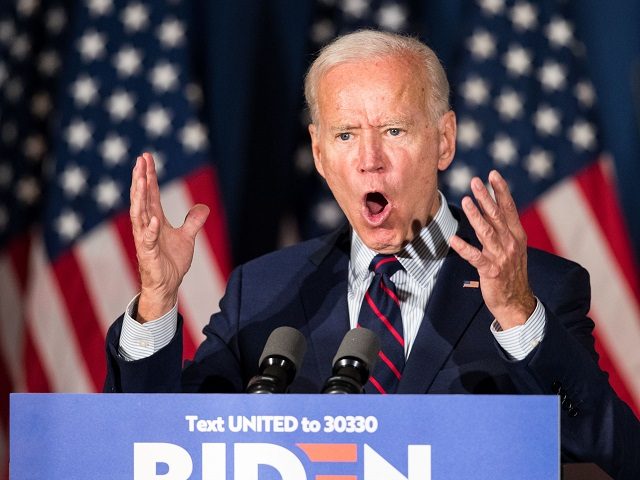 Biden says he's sick and tired of hearing about it and is very angry at his friend, The New York Times, for publishing an op-ed this week by best selling author Peter Schweizer, which lays out Biden's pattern of corruption.
However.
The well-sourced op-ed also reveals that because Republican, Senate Majority Leader Mitch McConnell's wife, Transportation Secretary Elaine Chao, received an inheritance from her wealthy father, McConnell and Chao are already under investigation by the House Oversight and Reform Committee.
There's no question there are ties between Chao, her family, and China.
We the people may also need to throw a tantrum.
Or maybe we should all plan to vote in 2020.
Be informed.
The Biden campaign
sent a scathing letter to the New York Times executive editor for running an op-ed by best selling author Peter Schweizer,
The letter, which was sent to executive editor Dean Baquet, took him to task for allowing Schweizer to expose Biden and his son's dealings to the public. And Schweizer's information is well documented.
Biden didn't mention that half of Schweizer's op-ed piece involved Senate Majority Leader Mitch McConnell and his wife, Transportation Secretary Elaine Chao's China ties.
It is further enraging to the Bidens---and others, that Schweizer is a conservative and his book "
Secret Empires
" is a bestseller.
The Biden Boys.
Schweizer wrote this in his
op-ed
:
In December 2013, Joe and Hunter Biden flew aboard Air Force Two to China; less than two weeks after the trip, Hunter's firm, Rosemont Seneca Partners, which he founded with two other businessmen in June 2013, finalized a deal to open a fund, BHR Partners, whose largest shareholder is the government-run Bank of China, even though he had scant background in private equity.(Representatives of the fund claim that the timing of the deal and the Bidens' trip to China was coincidental). Thus far, the firm has invested about $2.1 billion, according to its website.
With the Russian invasion of Crimea in 2014, Joe Biden became point person in Ukraine as well. That same year, Hunter Biden landed a board position with the Ukrainian energy giant Burisma Holdings. Despite having no background in energy or Ukraine, the vice president's son was paid as much as $50,000 a month, according to financial records. (He left the board in early 2019).
I can understand Biden's frustration---after all, most in the press are giving him a pass.
His letter to the Times said in part, "Are you truly blind to what you got wrong in 2016, or are you deliberately continuing policies that distort reality for the sake of controversy and the clicks..."
He blasts the Times for even allowing Schweizer to be published, saying
"..it is because of the critical role in our memory, the foundations of which are under assault, that we write to protest how little the New York Times has internalized the sobering lessons of 2016--particularly after giving top billing to discredited right wing polemicist Peter Schwweizer just this morning."
Biden's letter went on to accuse the Times of spreading "a baseless conspiracy theory advanced by Rudy Giuliani."
What was not included in the op-ed, but should have been, is Joe Biden bragging about his role in the firing of a Ukrainian prosecutor who was investigating Burisma holdings, where Hunter Biden was taking thousands---between $50 and $80,000 dollars per month.
On video
Joe Biden bragged about threatening to withhold military aid during an appearance at the Council on Foreign Relations last year."
And there is no hint of an investigation into the Biden boys.
Mr. and Mrs. McConnell
Mitch McConnell and wife Elaine (Chao) have suddenly become rich. And they did so during the very bad economy in 2008 and following.
Schweizer addressed this matter in his op-ed. I believe he was fair.
FORBES
has published an in-depth article about Chao's wealthy family, a recent inheritance she received following the death of her mother, and whether her influence has helped her father build his company--"Foremost" a 33-ship fleet worth $1.2 billion?
It's an interesting story.
Schweizer, in his op-ed, details the complex web of relationships between Chao, her family, and China.
While Elaine Chao does not have any legal role in her father's company, her family is deeply involved with China and the Chinese government.
Schweizer notes that "Mr. McConnell's once hardline condemnations of China have softened in more recent years."
He says,
"Mr. McConnell's sister-in-law, Angela Chao, and James Chao sat on the board of the holding company for China State Shipbuilding. While Elaine Chao was secretary of labor under President George W. Bush, Foremost Group ordered several enormous cargo ships from a subsidiary of China State Shipbuilding.
During that time Secretary Chao and her father appeared together on Chinese television in various interviews. In one of the interviews they sat in front of the United States Department of Transportation's emblem, and alongside images of several books Mr. Chao has written.
Today, Angela Chao sits on the board of the Chinese government's Bank of China.
The House Oversight and Reform Committee started an investigation into whether Secretary Chao has leveraged her government positions to benefit her family.
But so far, not a word about any investigation into the Biden boys.
Schweizer's conclusion.
Schweizer's says,
"The problem more broadly is that we rely on a hodgepodge of laws that lack the clarity and bright ethical lines found in the Foreign Corrupt Practices Act. That needs to change. International bribery laws clearly state that if a person or entity pays a politician's family member and gets favors in return, its an act of bribery; it's no different from the politician taking the money himself."
And he strongly urges Congress to take some definitive steps:
At a minimum, we need to strengthen American disclosure rules. Joe Biden and Elaine Chao have to report when someone sends them a $500 campaign donation, or when they make a $5,000 investment in a stock. But when their family members strike lucrative deals with a foreign government or oligarch, the reporting requirements are vague. The personal financial disclosure rules for American public officials should be expanded to include details concerning all their immediate family members (and not just their spouses, as the law currently states), and any dealings with foreign governments.
To the public, closing a loophole this glaring seems anodyne, a no-brainer. But lawmakers set the system up this way for a reason; they will not stop the foreign cash influence game voluntarily. That's why we need a Washington Corrupt Practices Act, one that clearly shuts down foreign influence and self-enrichment for some of America's most powerful families on both sides of the aisle.
Be Informed. Be Vigilant. Be Discerning. Be Prayerful. Vote.