This week President Trump said he will announce his nominee to the Supreme Court to replace Ruth Bader Ginsburg on Saturday at 5 PM (eastern).
By most accounts---friend and foe---it is thought that either Amy Coney Barrett or Barbara Lagoa will be nominated.
Both highly qualified, but Barrett has a unique "problem."
Be informed, not misled.
President Trump said this week: "I'm getting very, very close to having a final decision made, very close."
He says doing this before the election is a good thing because,
"We need nine justices. You need that with the unsolicited millions of ballots that they're sending. It's a scam. It's a hoax. Everybody knows that. And the Democrats know that better than anybody else...what they're doing is trying to sow confusion."
The President says of the possible nominees, "There are two that I have in mind as favorites. He mentioned only Lagoa, 52, and Barrett, 48, by name.
Both are highly qualified. Neither will be acceptable to the radical left Democrats. They're loading their weapons as we speak---it really doesn't matter who is nominated. They will seek to destroy them. Like the Kavanaugh trial on steroids.
It occurred to me, so I did a little checking, and it appears that the constitutional requirement does not include a long protracted so-called "hearing" which is a "trial" of a person said to be guilty before their name is even known.
This would be a good time to make the hearing what it is supposed to be---to discover if the nominee is qualified for the position. If so, confirm. If not, don't confirm.
I could be wrong, but I think the President will nominate Amy Coney Barrett tomorrow.
If not, Monday we'll talk about Lagoa's qualifications. And she's highly qualified.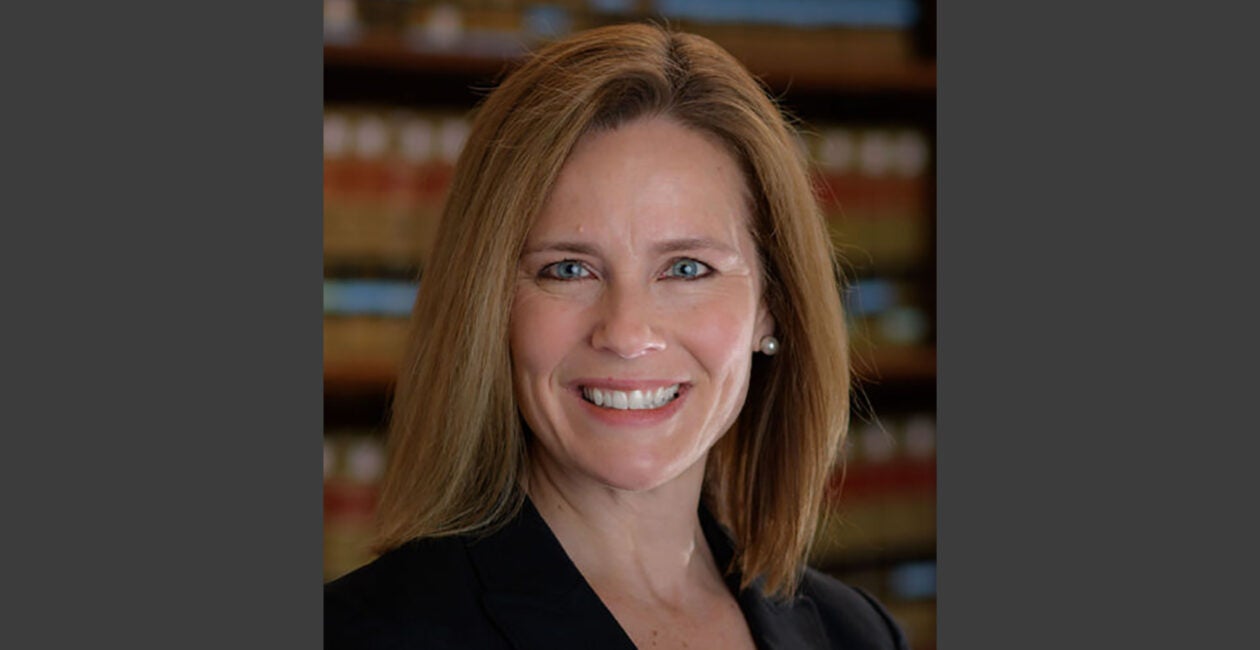 Who is Amy Coney Barrett?
The Heritage Foundation has been advising the President regarding, among other things, judicial nominees.
This week they published an article: "6 Things To Know About Supreme Court Prospect Amy Coney Barrett."
They note that she made history on the 7th Circuit Court when she became the first and only woman from Indiana to hold a seat on that appeals court, which also covers cases in Illinois and Wisconsin.
The late Justice Scalia, a conservative icon, was her mentor--she clerked for him. She has said working for him was tough---he required a lot. And she has said this about her former boss:
And, you know, Justice Scalia obviously [was] very quick witted, brilliant, and … he didn't want you to agree with him, he wanted you to say what you thought. Disagreeing with him, as I sometimes did, and pushing back and going back and forth with someone like Justice Scalia really taught me a lot, taught me a lot about oral advocacy, being articulate. And who better to learn how to write under than someone who was as great a writer as he was?
She says she and her husband, Jesse Barrett a former assistant US attorney and editor in chief of the Notre Dame Law Review---now in a private law firm, are a team.
They work together in raising their 7 children---2 are adopted from Haiti and one of their children has Down syndrome. She says she and her "very wonderful husband" balance their careers and family through teamwork.
Both she and her husband graduated from Norte Dame and are along with their kids involved in the university---especially the football games.
She taught at Notre Dame for a number of years---in fact, was voted by students "Distinguished Professor of the Year."
She has not been timid in addressing moral teaching and the law, but she says: "Judges shouldn't conflate their faith with the law---Judges can not---nor should they try to---align our legal system with the Church's moral teaching whenever the two diverge."
In other words she believes in having a deep faith, but not judicial activism.
And therein is her problem with the radical left. While she is highly recommended by everyone who has known or worked with her, from staff to the president of Notre Dame University---she's too devout in her faith.
The radical left thinks she's too religious. They cannot believe someone would put the Constitution above their own beliefs as a judge because they are not capable of such integrity.
Barrett's real problem
During her confirmation hearing in September 2017 for the 7th Circuit, Barrett was questioned by Sen. Diane Feinstein, D-Calif., about the influence of her Catholic faith.
Feinstein said to her, "The dogma lives loudly within you, and that's of concern."
Barrett responded, "It's never appropriate for a judge to impose that judge's personal convictions, whether they rise from faith or anywhere else, on the law."
Douglass Andrews, writing for The Patriot Post, summed up her problem like this:
At the time of Feinstein's bigoted comment, a few leading voices spoke out against it. These included John Jenkins, president of the University of Notre Dame, where Barrett was then a law professor. "I am one in whose heart 'dogma lives loudly,' as it has for centuries in the lives of many Americans, some of whom have given their lives in service to this nation," wrote Jenkins in an open letter to Feinstein. "Indeed, it lived loudly in the hearts of those who founded our nation as one where citizens could practice their faith freely and without apology."
The attacks on Barrett began in earnest yesterday, with the mainstream media taking the lead. As National Review's Zachary Evans reports, "Barrett is reportedly a member of People of Praise, an interdenominational Christian community organization. A Tuesday article from Reuters questioned whether the group was similar to a totalitarian cult from the novel The Handmaid's Tale, while a story from Newsweek initially asserted that Margaret Atwood, the author of the novel, used People of Praise as inspiration for the book's fictional cult."
That was a shameful and reckless falsehood, perhaps even an outright lie, and Newsweek was forced to correct it. But you'll have to scroll and scroll and scroll to find where Newsweek "regrets the error" in a story that still smears Barrett and those Catholics.
Nebraska Senator Ben Sasse, though, had already heard enough. "These ugly smears against Judge Barrett," he said, "are a combination of anti-Catholic bigotry and QAnon-level stupidity. People of Praise is basically a Bible study — and just like billions of Christians around the world, Judge Barrett reads the Bible, prays, and tries to serve her community. Senators should condemn this wacky McCarthyism."
The secular religion of the Left is nothing new, but its numbers are growing, and so is its intolerance for people of faith. These days, leftists don't merely reject Christianity; they ridicule it. Unless they can use it to take power — in which case they embrace it. As columnist Elle Reynolds puts it, "The media loves to fawn over the pious and heartfelt Catholicism of Joe Biden. Now they're talking about the Catholic faith of Amy Coney Barrett, the frontrunner to be appointed to the U.S. Supreme Court. But you'll notice a very different tone. The key differences are their adherence to their faith's actual teachings, as well as their political leanings."
Joe Biden is a fake Catholic, an abortion-on-demand Catholic. Judge Amy Coney Barrett, on the other hand, is a real Catholic, an honest adherent of the faith. Which is why the Left is hell-bent on destroying her.
It all comes down to a spiritual, not a political contest.
Pray for our country, and pray for our President.
Be Informed. Be Discerning. Be Vigilant. Be Prayerful. Vote.