Virginia looked over their collective shoulders Tuesday, turned back to the "old" ways the prophet Jeremiah spoke of, and gave America a true picture of "Equity" based on "equality" of opportunity and merit, not enforced "wokeism."
A closer look at the leaders Virginia chose Tuesday is encouraging. Very encouraging.
A majority of Americans---72%, believe the left's "cancel culture" is out of control---and 75% of evangelicals believe God has granted America a special role in history.
That certainly does not fit "wokeism" and the gospel of the so-called progressive left.
Be informed, not misled.
A turning point.
Tuesday, Virginia turned back to the old ways of our Founding Fathers, including Virginians George Washington, Patrick Henry, Thomas Jefferson, James Madison, and George Mason.
Voters cheered and "celebrated their strong showing with Youngkin telling a cheering crowd of supporters that 'this is the spirit of Virginia coming together like never before'."
Even more importantly, they turned back to the "old paths" spoken of by the prophet Jeremiah who said, "Thus saith the Lord, Stand ye in the ways, and see, and ask for the old paths, where is the good way, and walk therein, and ye shall find rest for your souls..." (Jeremiah 6:16).
Tuesday, Virginia turned toward finding rest for their souls. Virginians have suffered through a former Governor Northam---also a medical doctor, explaining how a newborn baby is "made comfortable" on a table while the mother and her doctor discuss whether the child is wanted or should be aborted.
He was barbaric in his advocacy of abortion.
They have been told recently by former Governor McAulliffe, who was running for a new term in office, that parents do not have the right to tell schools what they should teach their children---and have been linked to "domestic terrorists" because they went to the school board meetings to voice their concerns.
McAulliffe told the state Monday that "Virginia has too many white teachers"---racism of a different kind.
Virginia turned away from the so-called "progessive path," to the old, proven ways of our Founding Fathers and their biblical beliefs.
In doing so, they are showing our nation what true equality looks like---while exposing so-called "equity" for what it is.
Who is Governor-elect Glenn Youngkin?
The Christian Post asked the same question a while back. You should read their account. Here are some excerpts:
The journalist says she's been involved in political campaigns since she was old enough to get her nose up to the buffet line for more than five decades, and after spending time with Glenn Youngkin and his family on the campaign trail, "He is an exceptional candidate at an exceptional time in our nation's history."
She says he often during the campaign shared his personal faith in Jesus Christ and often tells the story of how when he asked his wife to marry him she said yes, on one condition, that Jesus would be the center of their family. He says, "I wanted to get married, so I said yes." Then quickly adds how his wife Suzanne revolutionized his life with her example and her Christian faith.
The journalist notes that one day on the campaign trail she saw Glenn step aside, away from the crowd, with a woman whom he had been talking with, lay his hand on her shoulder and pray for her.
That's who he is.
He has an "unwavering commitment to the sanctity of life---strongly opposed to abortion and deeply concerned for the unborn and the elderly.
His professional resume, the Christian Post says, "shows he is a true leader." He grew up in a middle-class family in Virginia Beach. He's tall at 6 foot 7 inches, but it was his long hours of basketball practice that allowed him to attend Rice University on a full scholarship. He then attended Harvard, earning an MBA---ranking at the top of his class.
He has 25 years of professional business experience, was CEO of a company with assets more than four times Virginia's annual budget.
His accomplishments are exhaustive, but he says his greatest titles are husband and father. He and Suzanne have four "wonderfully adjusted children," the Post says.
Youngkin's personal worth is said to be about $400 million.
I heard his wife say at a rally this past week, he told her he felt a "calling in his heart" to step away from business and run for governor."
Who is Lieutenant Governor-elect Winsome Sears?
She
spoke
early Wednesday morning to celebrate her victory alongside Governor-elect Youngkin, telling the crowd she is "living the American dream."
She doesn't see America as racist, she sees America as a land of opportunity.
Winsome is black. She was tired from a long campaign, but she thanked the people and thanked God for her winning the election.
Sears is a graduate of Regent University with a master's degree in organizational leadership.
She says God and a good education lifted her up and she and Governor-elect Youngkin are focused on fixing the educational system in Virginia, among other issues.
The US Marine Corps veteran said she was "at a loss for words for the first time in my life," but nevertheless gave God the glory.
She said she loved America so much she joined the Marines as a way of giving back to our country.
"God bless you," she told the rowdy crowd, thanking her "ragtag" staff for their "tireless efforts"---"We ran an impossible, improbable campaign...God was exactly with us, otherwise, we would have never made it. And so I want to finish up by thanking you, Jesus. How sweet it is."
Takeaway
In a survey out yesterday, Rasmussen Reports found that 72% of American adults say "cancel culture" and "wokeism" is out of control, and believe we should go back to protecting free speech, not censoring it.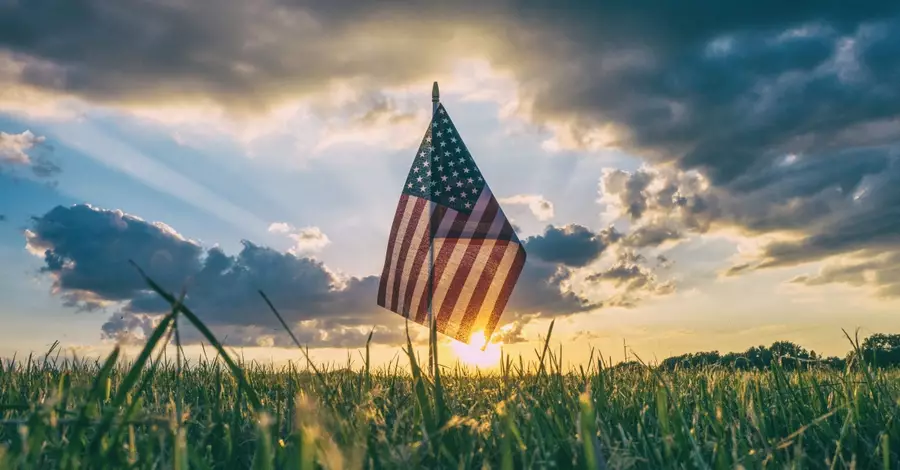 A Public Religion Research Institute poll found that 72% of evangelicals believe that "God has granted America a special role" in history.
The same poll found that 74% of all Americans---including 92% of Republicans and 67% of Democrats believe that "America has always been a force for good in the world."
Equality is a God-given right, embedded in our Constitution. Equity is a man-made attempt at subverting God's ways and becoming a god---an arbiter of what mankind can and can not achieve--dividing rather than uniting, picking winners and losers, and controlling rather than freeing individuals.
Winsome Sears and Glenn Youngkin are an example of how God's "old paths" are better than the progressive's "new paths."
Our Founding Fathers knew and embraced those "old paths". Virginia has returned to the "old paths."
The question is will America rediscover the God who has blessed us, and the values and principles upon which we were founded---the old paths.
In Jeremiah's day, they did not. Verse 16 concludes, "But they said, We will not walk therein."
America is at the proverbial fork in the road. I hear Joshua shouting to the people of God, "Choose you this day whom you will serve"..... "as for me and my house we will serve the Lord."
Be Informed. Be Engaged. Be Faithful. Be Blessed. Be Prayerful.