It was Jesus Himself who assured his followers, "The gates of Hell would not prevail against my Church"---The Christian Church is made up of believers from every nation, tribe, and tongue.
Global persecution against His Church is reported daily.
Now it's coming to America.
A Calvary Chapel church has been fined over a million dollars because they met maskless during the pandemic.
Last Friday, V.P. Harris told an audience that "Pro-life voices" are an "attack on our democracy."
Associated Press knocked themselves out to be sure America knew that the kid who leaked classified information last week, also identified as a "Christian." This while we still know little to nothing about the transgender who shot and killed six people, including three children, at the Christian school in Nashville.
And the Daily Caller is reporting that our second Catholic President "won't stop targeting the Catholic Church."
Be informed, not misled...or fearful.
About Jesus
The closest followers of Jesus were talking about what people were saying about Jesus---about who the public thought He was (Matthew 16).
Jesus asked, "But whom say ye that I am? (v 15)"
Peter responded, "Thou art the Christ, the Son of the Living God. (v 16)." Jesus responded, explaining Peter could not have known that without a revelation from God.
Jesus continued, explaining that Peter's confession of faith was the rock upon which He would build His church, "and the gates of hell shall not prevail against it."
There is growing persecution against the Christian Church in America--a nation founded on Judeo-Christian values and principles---a nation that was to be a "city on a hill." A light in the darkness.
We are losing our salt and light.
About Calvary Chapel San Jose
A California judge on Wednesday fined a Silicon Valley church over a million dollars for allowing worshippers to attend services maskless and in person during the coronavirus pandemic.
Superior Court judge Evette Pennypacker ordered Calvary Chapel San Jose to pay $1.2 million in fines to Santa Clara County for violating the county's COVID-19 restrictions. Pennypacker's decision is the latest development in a lengthy legal battle between the church and the county, which imposed some of California's most stringent pandemic restrictions.
In her ruling, Pennypacker said, "It should appear clear to all—regardless of religious affiliation—that wearing a mask while worshipping" helps "protect others while still exercising your right to religious freedom."
The Supreme Court in 2021 struck down California Gov. Gavin Newsom's (D) ban on indoor worship services, which lasted longer than the state's forced closure of strip clubs.
Santa Clara County officials originally demanded that Calvary pay $2.8 million in fines.
Robert Tyler, president of the religious liberty law firm "Advocates for Faith and Freedom," says, "This case will not likely end until the U.S. Supreme Court rebukes Santa Clara County again. The opinion is very deficient in its analysis and provides for an excellent appeal."
But the County is trying to prevail.
About Vice President Harris
Vice President Kamala Harris made a surprise
appearance
at an abortion rally in Los Angeles on Saturday, a day after the Supreme Court issued an administrative stay regarding restrictions on mifepristone, the drug used in about half of all abortions nationwide.
Harris urged rallygoers to "stand up and fight," describing the situation as a "critical moment" in U.S. history.
"When you attack the rights of women in America, you are attacking America," Harris told the crowd of a few hundred people. "We have seen attacks on voting rights, attacks on fundamental rights to love and marry the people that you love, attacks on the ability of people to be themselves and be proud of who they are."
Harris warned against pro-life voices, who she says "attack fundamental rights," claiming that they "by extension, attack our democracy."
Her attack was specifically directed at people of biblical faith who believe God condemns homosexuality, affirms marriage as only between a man and a woman, and believes that God created male and female---not transgenderism.
The vice president calls for people to "fight" against and prevail against these beliefs and those who hold them.
About Associated Press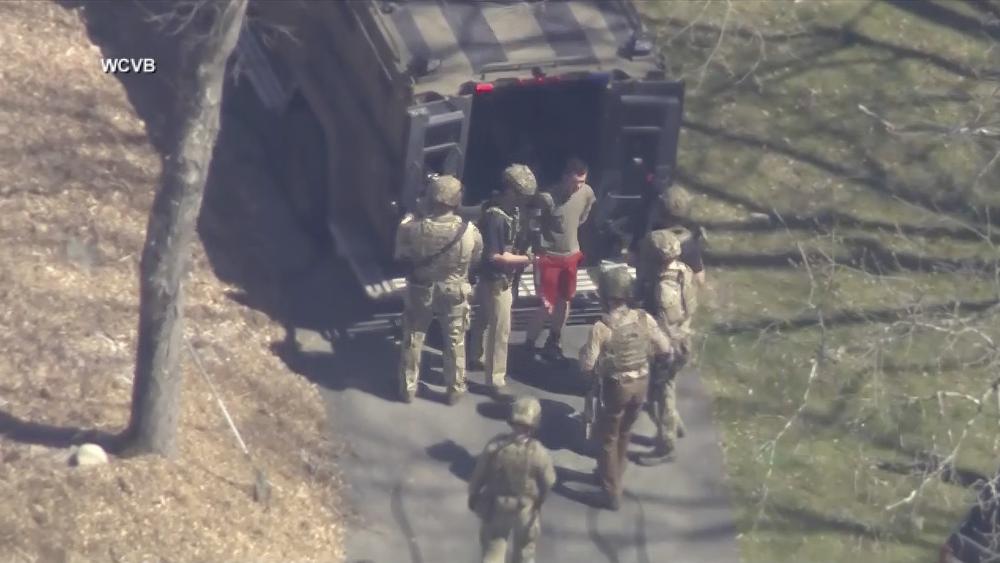 AP influences millions of people through their own publications and through those news organizations that copy or publish AP's articles.
Their position on the kid that leaked the classified military information, as opposed to how they handled the Nashville Christian School shooting, is revealing.
Their headline read: "Suspect in leak probe talked about God, guns and war secrets."
However, when Associated Press and all most all news organizations found that the shooter in the Nashville Christian school massacre was transgender---the news stories stopped. They moved on. No more comments.
AP concludes its in-depth article with this:
The person who spoke to the AP says, "the O.G." — who he acknowledged Thursday was Teixeira — was an observant Christian who often spoke of God and prayed with members of the chat group.
While he was enlisted, Teixeira opposed many of the priorities of the U.S. government and denounced the military "since it was run by the elite politicians."
"He expressed regret (about) joining a lot," the person said.
But the person has stressed that he didn't believe Teixeira leaked documents to undermine the U.S. government or for an ideological reason.
AP said, "Basically what he said was, 'I'm sorry, guys, I prayed every single day that this wouldn't happen. I prayed, and I prayed, and now it's only up to God what happens next."
The press, in general, delights in casting a shadow---trying to prevail against biblical Christianity whenever possible while protecting those and their worldview who live in rebellion to biblical teaching.
The White House still refuses to call the Nashville Christian School shooting a hate crime, even though the shooter had attended the school and was transgender--- a lifestyle the school does not condone.
And finally---About President Biden.
The Daily Caller
has published a story recently, outlining the president's relationship to the church he claims to devoutly embrace.
He has often referred to himself as "a devout Catholic."
However, the Daily Caller says this:
The Biden administration has been criticized for its treatment of Catholic Americans in recent months, especially after news broke that the FBI was using undercover agents to infiltrate churches, and religious experts told the Daily Caller News Foundation it will likely get worse.
The DOJ offered a plea deal earlier this week with no jail time to a transgender vandal that spray painted "kid groomers" and "woman haters" on a Catholic church and assaulted several members as well as police officers before being arrested while opting to raid the house of a Catholic pro-life activist named Mark Houck in 2022 for an alleged assault of an abortion clinic worker.
"Anti-Catholicism has been said to be the 'last acceptable prejudice,'" Andrea Picciotti-Bayer, director of the Conscience Project and a fellow at the Institute of Human Ecology at the Catholic University of America, told the Daily Caller News Foundation.
The Caller concludes with a quote from a well-informed observer:
"Even faithful Catholics who try to live out these teachings find them challenging in the best of times, but always worth it, a continual opportunity to strive to serve Christ. So for a President of the United States to constantly message about the 'soul of America,' 'unity,' and his 'devout faith' while at the same time working so brazenly against the Catholic people, Catholic teachings, and the Church herself – let's just say it's a grave scandal and a matter for prayer and penance."
President Biden will not prevail against Christ's Church.
Takeaway
"Beloved, think it not strange concerning the fiery trial which is to try you, as though some strange thing happened unto you: but rejoice, inasmuch as ye are partakers of Christ's sufferings; that, when his glory shall be revealed, ye may be glad also with exceeding joy" (I Peter 4:12-14).
Be Informed. Be Discerning. Be Engaged. Be Not Afraid. Be Prayerful.