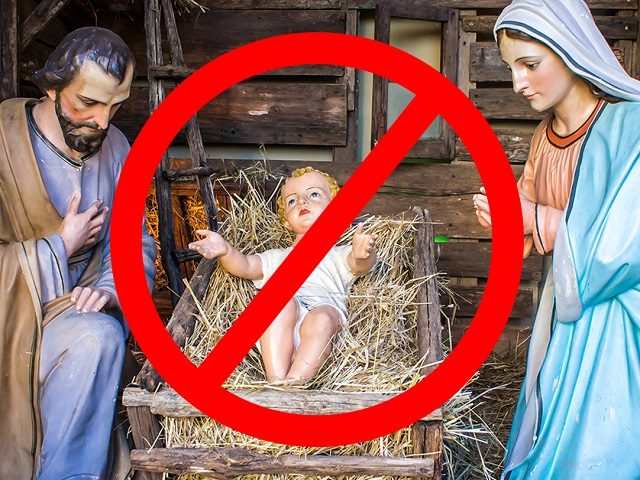 Amazon is promoting a children's book which narrates the birth of Jesus Christ as its "#1 Release in Children's Christian Holiday Fiction."
Fiction?
The book, in poetic form, tells the story exactly as it is presented in the gospels.
Why would this be fiction?
And what is Amazon suggesting?
Be informed.
The book, "
The First Christmas
" by author Thomas D. Williams, is an illustrated children's poem describing the Nativity of Jesus in anapestic tetrameter, the same poetic meter or cadence as Clement Clarke Moore's classic Christmas poem "A Visit from Saint Nicholas"---also known as "The Night Before Christmas."
The book is published by Catholic publisher
Sophia Institute Press
.
However, unlike "A Visit From Saint Nicholas" which is fictional, "The First Christmas" is not fictional. It tells the story exactly as the gospels tell the story.
Amazon is promoting the book heavily as a work of "
Holiday Fiction
" that every family should have for the "holidays."

Are they suggesting that the Bible is fictional?
A Visit from St. Nicholas (fiction)
BY CLEMENT CLARKE MOORE

'Twas the night before Christmas, when all through the house
Not a creature was stirring, not even a mouse;
The stockings were hung by the chimney with care,
In hopes that St. Nicholas soon would be there;
The children were nestled all snug in their beds;
While visions of sugar-plums danced in their heads;
And mamma in her 'kerchief, and I in my cap,
Had just settled our brains for a long winter's nap,
When out on the lawn there arose such a clatter,
I sprang from my bed to see what was the matter.
You know the rest.
By comparison, Williams book (non-fiction)
begins
with this:
"Long, long ago in a
Land we call holy
Was born a great King
In a manger so lowly.
The King's name was Jesus,
His mother was Mary,
To neighbors and friends
It seemed quite ordinary.
But this birth was different: it had
Been foretold by sages and prophets and
seers of old.
A virgin would bring forth a child
Said Isaiah.
From Egypt the boy would emerge wrote Hosea."
There's more. But the last phrase says this:
"Yet nothing thenceforth
Has e'er been quite the same.
No redemption, no Heaven,
Apart from His name."
Amazon is out of touch.
I know, Jeff Bezos started Amazon in his house in Bellevue using a discarded door for a desk and has built a world monument to retail. He knows how to sell stuff and deliver it the same day.
But his company is out of touch with reality regarding basic spiritual matters. To most of his customers, the story of the birth of Jesus Christ is not "fiction."
St. Nicholas? Yes.
Jesus Christ? No.
I assume he and his executives are paying to much attention to the angry atheists who emerge every Christmas and Easter.
While only 3-11% in America are atheist, their voices are amplified by a complicit press each Christmas and Easter---and every time a coach or athlete prays, or a city council says a prayer, or part of Jesus' manger is over the line on government property--- Or some kid brings a small fir tree onto government property on or about the month of December when the angry atheist voices are heard.
Because of the support they get from the press, it always appears that America is divided on matters having to do with Christmas/Holiday--Truth vs fiction, etc.
Pew Research Center has found:
66% of US adults believe that Jesus was miraculously born to the Virgin Mary on Christmas.
75% of Americans still believe that the baby Jesus was born in Bethlehem.
68% believe that the three Magi from the East brought Jesus gifts of gold, frankincense and myrrh.
67% believe the biblical account of the angel appearing to the shepherds.
But that's older people. Right? Not necessarily.
Millennials:
55% believe in the virgin birth.
54% believe that an angel announced Jesus' birth to the shepherds.
57% believe the three magi came bearing gifts.
65% believe that baby Jesus was actually laid in a manger.
Additional findings:
90% of the US population still celebrates Christmas as a holiday.
51% say they will attend a religious service on Christmas Eve of Christmas Day.
Consider this.
Benjamin Franklin was one of the two most popular men in colonial America---George Washington was the other.
Washington was deeply religious. Franklin was not.
But he once published this in his Poor Richard's Almanac:
"How many observe Christ's birthday! How few, His precepts! O! 'tis easier to keep holidays than commandments."
Be Informed. Be Vigilant. Be Faithful. Be Joyful. Be Prayerful.