Last week the New York Times published an in-depth survey of each of the remaining Democrat candidates. All of them support and advocate taxpayer-abortion.
Only one candidate for the presidency does not. And he isn't a Democrat.
Be informed.
The New York Times
article begins with this:
"The New York Times asked the Democratic presidential candidates to complete a survey on abortion and contraception. Following are the full responses we received, unedited except for corrected type and punctuation."
They say 5 candidates did not complete the survey. "Where possible we determined their positions from published plans, interviews, debates, and forums."
Michael Bloomberg had not entered the race when the survey was taken. He is now running as an Independent. He is a well known, strong supporter of abortion. I don't know his position on taxpayer-funded abortion. I suspect he supports it.
Only one candidate is pro-life. And he isn't a Democrat. Donald Trump.
The NYT published this story to assure the Left they are safe with any candidate they choose to support.
All of the
candidates
are now on record saying "Yes" when asked if they would "codify Roe v Wade" and "repeal the Hyde amendment"---the legislative provision first instituted in 1976 that forbids the use of federal funds through Medicaid or other government entities to pay for abortions. For decades the amendment has had fairly strong bipartisan support.
No more.
Every candidate said they would preserve government funding for Planned Parenthood, which, as you know, is the nation's largest abortion business. Joe Biden tried to hedge and have it both ways, but a series of other answers betrayed his "non-answer" to the Hyde amendment question. Tulsi Gabbard's position was noted as "unclear"---again, answers to other questions filled in the blanks.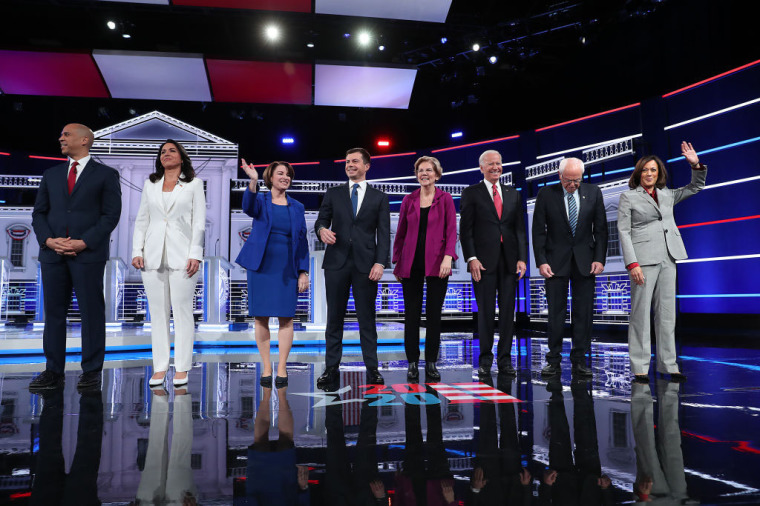 Nearly all the Democrat candidates said they would "ban abstinence-only sex education."
A majority said they would force private insurers to cover abortions as part of their plans.
Asked if they believe abortion should be "safe, legal and rare" ---as President Bill Clinton once said---most paused, but Cory Booker said simply, "I believe abortion is healthcare." He went on to promise that he will create a White House Office of Reproduction Freedom, "charged with coordinating and affirmatively advancing abortion rights and access to reproductive health care across my administration."
The rest of the candidates readily noted they think abortions should be safe and legal, but would not say they should be rare.
The survey formally marks a considerable shift among progressives in the US. Their elected "public servants" reflect that part of the electorate's belief toward the sanctity of life. In fact, the Democrat Party is shifting so far to the Left on so many issues, some of their own are wondering out loud if any of the candidates could be elected president.
They are so far Left on almost every issue---so-called climate change, Life, human sexuality, marriage, family, advocating socialism, etc.---they are sucking the life out of their political party.
My personal concerns are focused on social issues.
Even Barack Obama was issuing warnings to his party last week, encouraging them to dial it back a bit if they want to win in 2020.
Why Christians should care, participate, and get it right on politics.
David Closson is Director of Christian Ethics and Biblical Worldview at Family Research Council. He has written a good
article
about why Christians must care and must get it right.
He gives 4 reasons why we must care.
1. The Christian Worldview speaks to all areas of life.
A frequently raised objection against Christians being involved in politics is that anything besides explicit preaching and teaching of the Bible is a distraction from the mission of the church. This, however, is a very limited understanding of the kingdom of God, and it runs contrary to Scriptures.
What about Joseph and Daniel in the Old Testament? Both served in civil government and they both exerted considerable influence for good and godliness in the culture.
In the New Testament, Jesus' ministry touched every element of life---healing diseases, feeding the hungry, looking after the general needs of people.
Paul advocated Christians must be involved in the culture: "For we are His workmanship, created in Christ Jesus for good works, which God prepared beforehand, that we should walk in them (Eph. 2:10).
"Engaging" in good works certainly includes participating in the political process because of the legitimate and significant role of government as outlined by Paul in Romans.
A Christian worldview must include a political theology that includes our "good works."
2. Politics are unavoidable.
As citizens of the Kingdom of God, we can easily become disconnected from the things of this life. We can conclude that earthly governing systems are inconsequential and can develop a mindset, or worldview, that dictates we avoid involvement in the human events of our times.
I often hear Augustine's "City of God" quoted as a reason for Christians not to become involved in the political process, but on this side of eternity we also belong to the "City of Man."
Paul appealed to his dual citizenship (Acts 16:37, 22:25) as a model.
In the American context, engaging these dual cities takes on added significance because of the words prefacing the Constitution: "We the people." In the United States, ultimate national sovereignty is entrusted to the people.
James Madison explained that the "consent of the people" is the "pure original fountain of all legitimate authority." This reality makes politics unavoidable for American citizens who control their political future.
Politics have real-world implications for Christian evangelism, missions, preaching and teaching the gospel.
3. Loving our neighbor.
Jesus told us to "Love your neighbor as yourself" (Matt. 22:39). A quick look at the world, including our own world here in the US, we see hatred not love among many "neighbors."
We can actually demonstrate love through politics. Christians are always among the first to respond to floods, famines, earthquakes, and storms around the world.
The Golden Rule includes seeking laws that protect unborn children, protect and strengthen marriages and families. Politics is a means for furthering these acts of love.
4. Proper government restrains evil and promotes good.
Government derives its authority from God to promote good and restrain evil. This is expressed in Romans 13:1-7. Elsewhere, Paul urges us to pray "for kings and all who are in high positions, that we may lead a peaceful and quiet life" (1 Tim. 2:1-2). Paul understood the need for Christian participation in government.
Government plays a role in the work of God's kingdom on earth.
In Alvin Schmidt's book, "How Christianity Changed The World," he documents historical Christian influence in government.
Because of Christian influence in ancient Rome, infanticide, child abandonment, and gladiatorial games were outlawed ending the practice of human sacrifice among European cultures.
Christian influence outlawed pedophilia and polygamy and prohibited the burning of widows in India.
William Wilberforce, a committed Christian, was the force behind the successful effort to abolish the slave trade in England.
In America, two-thirds of abolitionists were Christian pastors.
Theologian Carl Henry advocated that Christians "should work through civil authority for the advancement of justice and goodness."
The Takeaway.
Jeremiah (29:7) says:
"But seek the welfare of the city where I have sent you into exile, and pray to the Lord on its behalf, for in its welfare you will find your welfare."
Politics affects government, shapes society and influences the culture.
Christians must involve themselves in the culture. It is the will of God.
Be Informed. Be Vigilant. Be Faithful. Be Pro-Active. Be Prayerful.