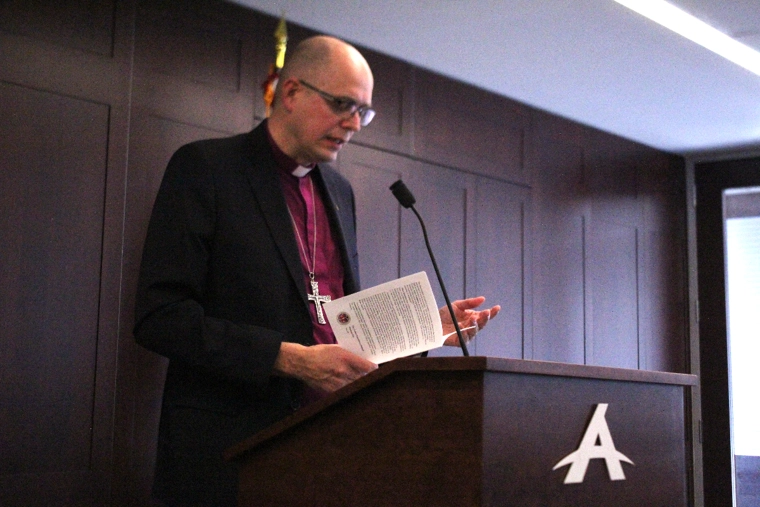 A bishop of the Evangelical Mission Diocese of Finland says, "The Gospel of Christ is at stake"---as he faces prosecution over his deeply held Christian values.
The attack on biblical Christianity isn't only "somewhere else"; it's also right here.
The Washington State Supreme Court has ruled against Seattle's Union Gospel Mission because of their "Christian beliefs."
Successful actor, Tony Award nominee for his role in the Broadway show "Memphis" and Washington State native Chad Kimball says he was fired over his "biblical beliefs" when he publicly challenged Gov. Inslee's Covid mandates regarding church meetings and singing in worship.
Be informed, not misled.
First, they came for the pastor.
A Finnish bishop and pastor is facing prosecution for publishing a booklet promoting Christian, biblical teachings about marriage and sexuality. He is warning Christians across the western world that "the Gospel of Christ is at stake" as governments liken such beliefs to hate speech.
The booklet, titled, "Male and Female He Created Them: Homosexual Relations Challenge the Christian concept of Humanity" has become the specific issue.
A medical doctor, who is a member of the Finnish Parliament and a devout biblical Christian, assisted in writing the book.
The Rev. Juhana Pohjola, bishop of the Evangelical Lutheran Mission Diocese of Finland, spoke at the US-based Alliance Defending Freedom law firm recently saying the booklet, although published a while back when Finland was considering allowing homosexuals to adopt children, has now become a lightning rod. And he is facing prosecution for "hate speech."
He said, "When postmodernism first swept over western countries, its basic core was denial of absolute Truth. The only truth was that you must allow everyone to have his or her own subjective truth."
But it has now "taken on a different tone"---
"If you are against LGBTQ+ ideology, so-called diversity, equality and inclusiveness, you are not only considered to be old-fashioned...but rejected as morally evil. This is what the prosecutor general understands her duty to be, to protect fragile citizens and victims from the intolerant and hateful Christians."
He said he agrees with political commentators in the US who are saying "soft totalitarianism in Western countries" is taking over all aspects of life--"media, business, education, culture, courts, army and church parties"---"is the same ideology that suppresses freedom of speech and suffocates differing opinions and viewpoints."
Pohjola has tried to explain to authorities that:
"We are all created in the image of God, we are all equal and share inherent equality. We are all part of the fallen human race and therefore are all sinners, homosexuals are not greater sinners than all the others, but nevertheless it is sinful to live in a homosexual relationship according to our Christian faith"---and he has further affirmed that "marriage is only between one man and one woman."
He said, "This case is only a faint echo of the cultural eruption that is taking place in Western countries---Finland is no longer a Christian country."
Then, they came for the Mission.
Far too often, faith-based ministries must defend their fundamental rights in court rather than focusing on serving those in need.
That's what happened to Seattle's Union Gospel Mission.
The Mission opened during the Great Depression in 1932. It is exceptionally successful in sharing the gospel of Jesus Christ while meeting the needs of the most needy---including the homeless.
About 70% of their clients are working or are in school two years after graduating from one of the mission's recovery programs. And about 25% of the mission's staff are former clients.
Seattle has the third-largest homeless population in the United States. But none of that matters to those who seek to silence the gospel.
The Gospel and the Mission's religious beliefs are the keys to its success. That's why it's ironic that Seattle's Union Gospel Mission is now being told by the Washington State Supreme Court it must hire an applicant who does not agree with the mission's beliefs.
A 2021 decision by the Court attempts to punish the ministry for declining to hire a lawyer for its legal-aid clinic who does not share the beliefs of the organization. The lawyer refused to follow the code of conduct and was not active in a local church, and therefore could not provide a pastor's name and contact information as the missions require for all applicants.
Most stunningly, the applicant said he was applying because he hoped to "change" the Mission's religious beliefs.
And the State Supreme Court is assisting him in his task.
The beliefs the applicant and the Court are trying to "change" include the deeply held belief that the Gospel of Jesus Christ changes lives. Following spiritual renewal, they lead the person in personal renewal and prepare them to be self-sustaining.
The link above includes the story of Darryl Ann who was living under the I-90 bridge in Seattle.
Now she is working for the Mission helping people, changing hearts---just as hers was changed by the Gospel of Christ.
The mission teaches the people to fully surrender their lives to God as they begin a new life in Christ and in the community.
The state and city programs are miserable failures. Why would they seek to punish what is working?
Because it's not primarily about helping people. It's primarily about building and expanding a political power base. And it's sick.
And then they came for the actor.
The
New York Post
begins: "Chad Kimball is a practicing Christian. But these days, he shows little interest in turning the other cheek."
"Jesus never commanded us to not defend ourselves," he told the Post. "As Christians, we are commanded to seek justice, truth and restoration. The law gives us opportunities to do all of those things."
The Post says, "Last November, Kimball unwittingly stirred up a storm of controversy when he tweeted his unhappiness over COVID mandate in his home state of Washington that limited religious services and forbade worshipers from singing in church."
He tweeted, "Respectfully, I will never allow a Governor or anyone to stop me from SINGING,let alone sing in worship to my God. Folks, absolute POWER corrupts ABSOLUTELY. This is not about safety. It's about POWER. I will respectfully disobey these unlawful orders" he tweeted in response to Gov. Jay Inslee's decision."
Respectfully, I will never allow a Governor, or anyone, to stop me from SINGING, let alone sing in worship to my God. Folks, absolute POWER corrupts ABSOLUTELY. This is not about safety. It's about POWER. I will respectfully disobey these unlawful orders. #inslee #Tyranny #truth pic.twitter.com/84UDiozOd1

— Chad Kimball (@chadkimball1) November 15, 2020
He is now suing the production company and the agent who he says got him fired.
Kimball has had a very successful career on Broadway.
Most recently he and his wife Emily, an actress, have been staying with family in his hometown of Seattle.
He says, "I grew up in a Christian household there," before moving to Manhattan and launching his theater career. "I went to Sunday school and church every Sunday. My parents practice what they preach and we are all people of integrity."
He reacted to Gov. Inslee's mandate that limited houses of worship to 25% capacity and that "congregational members...won't be allowed to sing."
His tweet was seen by others with significant influence who retweeted---soon it was seen by millions.
Following the January 6 demonstration at the Capital, Kimball was told that the production company had "concerns" that "events at the Capitol, Josh Hawley and others in the Conservative Christian movement were tied together." And it was implied that there could be the perception of a connection between Mr. Kimball, by virtue of his faith, to the ideas and actions of the January 6, 2021 events at the US Capitol.
On January 22 he was told "he was terminated" because there was "too much work to do" and the production needed to focus on bringing the show back together after the pandemic and they had to ensure people's safety.
"Come From Away" reopened on Broadway without Kimball on September 21, but he says he harbors no ill will toward the cast and crew.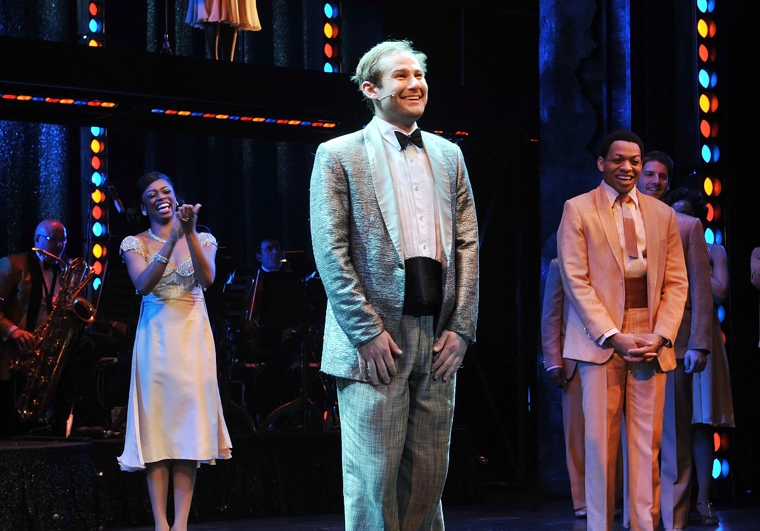 He says, "I pray for those involved with the show to have nothing but the best." Ironically the show is about "accepting everyone who comes to your door, regardless of what they believe."
Kimball says, "Apparently that applies to everyone but me."
Kimball has auditioned for a couple of roles in Los Angles, but gotten no work since being fired.
"This situation, this thing that happened to me, it has been life-changing," he says. "It's been hard, it's been depressing, but it hasn't destroyed me. I have turned to God to seek His mercy and wisdom."
And he has not stopped tweeting.
Takeaway.
If we don't stand strong for religious freedom as the left continues to seek and destroy, there will be no one left to stand when they come for me. And for you.
Be Informed. Be Discerning. Be Bold. Be Engaged. Be Prayerful.