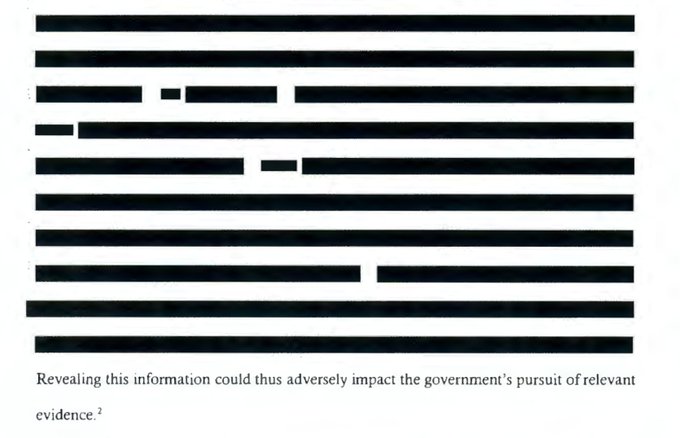 Former President Donald Trump has responded with fire, and humor, after the heavily redacted affidavit that paved the way for the FBI search of his Mar-a-Lago residence was revealed last Friday.
The former president took to his Truth Social account, "Affidavit heavily redacted!!! Nothing mentioned on 'Nuclear,' a total public relations subterfuge by the FBI & DOJ."
Millions agree.
With most of the affidavit redacted, the released document shows just how much the black lines matter.
Be informed, not misled.
Trump, in a follow-up post on his Truth Social, said "WITCH HUNT!!!" And another that said, "They missed a page!" with a fake affidavit image attached that showed everything black lined---or redacted other than the words "Make America Great Again."
While Trump was kidding about the massive redactions leaving "Make America Great Again" visible, it's no joke that the DOJ and FBI seem determined to find something on Trump.
When Republican Liz Cheney claims her life purpose is to be sure Trump is never elected to a public office again, and the media and political left wholly agree with her, it gives us a glimpse of how deep the hatred for Trump runs among his political enemies.
Whether you are a Trump supporter or not, all of us should want transparency in the attack on Trump. If he has done things illegally or harmful to the country, we citizens have a right to know.
Conversely, if this is a "witch hunt" as Trump and others claim, we citizens have a right to know that as well.
The Daily Wire posted "DOJ Releases affidavit regarding FBI raid of Mar-A-Lago. Hardly any pertinent info left unredacted."
BREAKING: DOJ releases affidavit regarding FBI raid of Mar-a-lago. Hardly any pertinent info is left unredacted. pic.twitter.com/3xfPTorxej

— Daily Wire (@realDailyWire) August 26, 2022
That's true---20 of the 30 pages of the Affidavit justifying the raid on Trump's personal home are either mostly or fully redacted.
This certainly tells us how much the DOJ wants us to know. Not much.
The importance of what is under the black lines and why it matters.
A federal judge has sided with former President Trump and announced her "preliminary intent to appoint a special master" to review the documents seized by the FBI from Mar-a-Lago earlier this month.
The judge, Aileen M. Cannon, a Trump appointee, comes less than one week after Trump's legal team filed a motion seeking an independent review of the seized documents. Trump's motion filed Monday argued the FBI raid was a political hit job against him by President Joe Biden's DOJ.
A "special master" would review documents and materials to determine which are protected by attorney-client privilege and executive privilege, barring the Department of Justice (DOJ) from using them.
The DOJ has vigorously opposed the appointment of a special master.
Fox News reported over the weekend, "Judge Cannon's decision on Saturday was based on Trump's submissions and the 'exceptional circumstances presented."
A hearing is set for Sept. 1 at 1:00 p.m. in West Palm Beach, Fla. Cannon also ordered the Justice Department to file a response by Aug. 30 and provide, "under seal," a "more detailed Receipt for Property specifying all property seized pursuant to the search warrant executed on August 8, 2022."
Below the black ink of the redacting pen lies the question: Equal justice under the law?
We now
learn
that Attorney General Merrick Garland took weeks to decide whether to issue a search warrant and unleash 30 FBI agents to search Mar-a-Lago for national security and classified documents that allegedly were not turned over last spring, casting doubt on both the urgency of the search and the excuse for not using less drastic means to get the documents.
If "equal justice under law" is the principle, (putting aside Hillary Clinton getting a pass on her blatant misuse of classified documents), Garland has yet to explain why, as Chief Judge of the D.C. Circuit, he rubber-stamped the dismissal of an indictment requested by Eric Holder's DOJ prosecutors in 2009 against Elizabeth Duke, a member of the radical May 19th communist terror group that bombed the U.S. Senate Chambers in 1983.

Duke became a fugitive after being released on bail -- no pretrial detention for her as what was imposed on many non-violent January 6 defendants locked up for over a year in solitary confinement. The FBI is offering a $50,000 reward for her capture. How many FBI agents has Garland dispatched to capture this violent terrorist and bring her to justice?

The alarming motion to dismiss the indictment was summarily granted by Obama-appointed Magistrate Judge Deborah Robinson who falsely signed the dismissal order as an Article III U.S. District Court Judge and falsely stated it was based on reasons given by the prosecutor when in fact, no reasons were offered in court.

What's more disturbing is that Garland failed to provide the Senate Judiciary Committee during his confirmation hearing for Attorney General with a copy of his Duke ruling and several other judicial misconduct appeals he dismissed, along with all his other opinions, speeches, and writings, which even included a theater review he wrote in 1972 at Harvard of Harold Pinter's play, "The Homecoming: Whores Pimps and Kindly Old Men." Surely, Members of the Judiciary Committee would have been more interested in questioning him about his Duke ruling than how many thumbs up he gave the play.
This Mar-A-Lago episode certainly involves Trump, but it casts a pall over our culture---and begs the question: "Is there equal justice under the law?"
By the way, Duke's co-conspirator Susan Rosenberg was convicted and imprisoned for the bombing, only to have her sentence commuted by Bill Clinton on his last day in office. Rosenberg has since taken her "social justice" skills to supporting Black Lives Matter.
Alexander Hamilton said at the Constitutional Convention in 1787: "There can be no truer principle than this----that every individual of the community at large has an equal right to the protection of government."
It now appears we may be living in an era when the government that was instituted to protect the God-given rights of the people, has become a weapon rather than a covering, to be used selectively by those in power to subdue their political opponents.
Be Informed. Be Discerning. Be Vigilant. Be Engaged. Be Prayerful.