Democratic California Gov. Gavin Newsom announced his state's launch of seven pro-abortion billboards that invoke the Bible on Thursday.
In fact, Newsom is using Jesus' own words to promote abortion.
The billboards advertise the recently launched website abortion.ca.gov, which provides information to help women in states where abortion is restricted or banned to access the procedure in California. The billboards are going up in Texas, Indiana, Ohio, Mississippi, South Dakota, South Carolina, and Oklahoma, all of which have placed bans or restrictions on abortion since the Supreme Court overturned Roe v. Wade in June.
All this, while Disney is demonizing the kids.
There is a spiritual war and its darkness is settling upon our culture.
Be informed, not misled.
About Newsom's evil campaign.
The billboards in Mississippi and Oklahoma invoked passages from the Bible to promote their abortion site. The billboards quoted Mark 12:31 — "Love your neighbor as yourself. There is no greater commandment than these."
The governor purposefully omits that the other commandment to which "these" refers is "Love the Lord your God with all your heart and with all your soul and with all your mind and with all your strength."
Abortion certainly does not clear that moral bar of loving God with all our heart, soul, mind, and strength.in light of the fact that God clearly says, "Thou shalt not commit murder."
On the first page of California's abortion website the reader is greeted with Newsom's own mission statement:
I want people to know all around the rest of the country and many parts of the globe, that I hope we're your antidote to your fear, your anxiety.— Gavin Newsom, California Governor.
The website includes information for specific groups:
People who live outside California
People who prefer another language
Immigrants and undocumented people
If you're under 18
And the website promises: "This website is a safe space for you to find abortion information. Your information is not saved or tracked. Learn more about your right to privacy and digital privacy."
The website also states that California law allows minors to "independently consent to their own healthcare' despite any objections from their parents. The website links to TeenHealthRights.org, which tells minors they "do not need your parents' or caregivers' permission to get an abortion if you are under 18" and that it is their "choice whether to tell your parents about it if you do get an abortion."
The Christian Post published this:
A new billboard campaign promoting abortion services in conservative states cites a Bible verse with the words of Jesus as an apparent endorsement.

Last Thursday, Gov. Gavin Newsom posted images on social media showing billboards set to go up in Texas, Oklahoma, Mississippi, and four other "anti-freedom" states where abortion is prohibited or significantly restricted.

Newsom's tweet read in part: "To any woman seeking an abortion in these anti-freedom states: CA will defend your right to make decisions about your health."

Newsom tagged several Republican governors, including Texas Gov. Gregg Abbott, Ohio Gov. Mike DeWine and Mississippi Gov. Tate Reeves, with whom he shared a billboard image that reads: "Need an abortion? California is ready to help."
The Sacramento Bee says Newsome tweeted, "Just launched billboards in 7 of the most restrictive anti-abortion states that explain how women can access care — no matter where they live."
Newsom's campaign spent $100,000 to put up three billboards in each of the seven states. Eighteen of the billboards went up on Thursday, with the three in Oklahoma arriving during the next few weeks.
The billboard campaign features three different graphics. One ad shows a handcuffed person wearing a dress with text that says, "Texas doesn't own your body. You do. Learn more at abortion.CA.gov."
Another display uses the same text with a red, white, and blue color scheme. The third ad shows a worried-looking person on one side with text on the other that says, "Need an abortion? California is ready to help. Learn more at abortion.CA.gov."
It isn't just Newsome that's evil.
Earlier this summer, the California legislature passed over a dozen bills expanding and protecting abortion access and protecting abortion providers from criminal prosecution.
A Bible verse printed underneath the message reads, "Love your neighbor as yourself. There is not a greater commandment than these. -Mark 12:31."
While Newsome is leading women into evil, Disney is demonizing families and children who escaped abortion.
You will remember last March, Disney dedicated itself to producing more LGBTQ+ friendly entertainment. They followed through with their promise and are continuing to do so even though conservative Christian leaders and family advocates asked Disney to please reconsider its abandonment of millions of traditional families.
One family advocate said, "Disney has long lost its neutral status as a unifying, nonpolitical element of our culture. Instead, they have now become political leftists and enemy No. 1 to their primary base of customers—parents with small children."
Now, as you may know, Disney has moved on to the next level of darkness---the spiritual realm.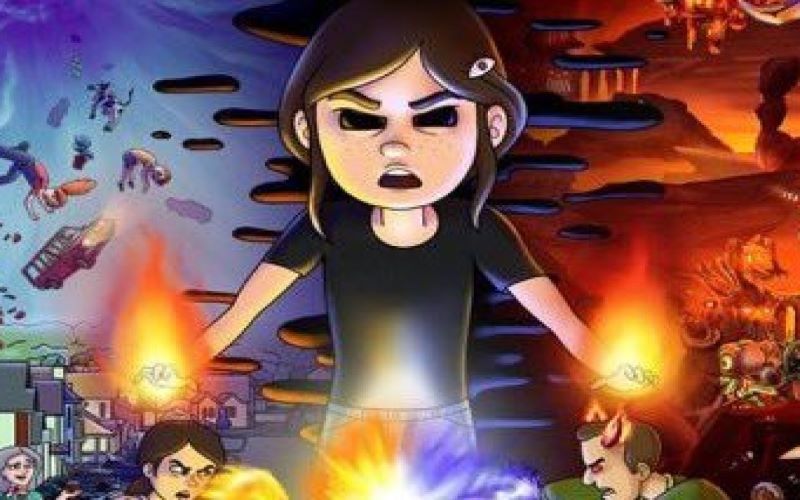 American Family News says this:
Disney has taken yet another dangerous step into the darkness with its new animated sitcom series, Little Demon. Sadly, this disturbing program is brought to viewers on FXX, courtesy of The Walt Disney Company, which took control of FXX Network through its purchase of 20th Century Fox.

Along with other Disney-associated productions such as Maleficent, Star vs. the Forces of Evil, and The Owl House, this new adult cartoon series, Little Demon, is also set in a spiritually demonic realm.

According to Deadline, a Hollywood online news source, "Among other shenanigans, the comedy … shows Laura [the mother] nude with no pixelation. She strips down in the first episode to perform a ritual, while there are multiple instances of nudity throughout the series."
Series creator Seth Kirschner told reporters, "We are going to keep going for it until we are told no."
AFN SAYS, "Let us be sure they are told, "No!" quickly!
They continue: "We must do so because Disney is introducing viewers, including children who might stumble across this series, to a world of demons, witches, and sorcery. Along with the demonic content of this series, the minds of younger viewers will also be inundated with secular worldviews that reflect the current culture."
Takeaway
Here is some insight into the show's background:
The series focuses on Laura and her daughter, Chrissy, who is the "love child," produced from her "fling" with Satan.
The trailer is filled with satanic imagery, animated gore, and graphic violence, such as beheaded chickens, pentagrams, dismembered bodies, and melting human flesh.
Rather than being represented as dangerous, demonic, and terrifying, Satan is depicted as an average, middle-aged, cardigan-wearing suburban dad.
The Bible tells us clearly in Isaiah 8:19-22 of a spiritual realm that is not of God. It warns us not to participate in witchcraft or consult with mediums but to call on God. Deuteronomy 18:10-11 also warns us to avoid witchcraft in all forms.
Ephesians 6:12: For we wrestle not against flesh and blood, but against principalities, against powers, against the rulers of the darkness of this world, against spiritual wickedness in high places.
Be Informed. Be Discerning. Be Vigilant. Be Bold. Be Engaged. Be Prayerful.