Concerns are growing over China's effort to buy up American farmland near U.S. military bases.
Experts are telling our lawmakers they need to act.
China expert Michael Pillsbury issued an urgent warning "for legal action to be taken against the Chinese Communist Party as concerns for national security swell."
According to the USDA, Chinese landowners control approximately 383,000 acres of U.S. farmland – and their investments are growing, FOX Business' Lydia Hu reported on Monday. Chinese ownership of U.S. farmland jumped more than 20-fold in a decade from $81 million in 2010 to nearly $1.9 billion in 2021.
"It's a very important subject and it's a good example of a larger problem," he said Monday on Fox Business.
Two Washington State US Representatives are sponsoring a bill to stop the Communist Chinese Party from buying any land in the U.S.
Be informed, not misled.
Chilling concerns regarding national security.
Michael Pillsbury says, "There needs to be a law passed by both houses, signed by the president monitoring this or saying it cannot be done if it's so many hundreds of miles away from an Air Force base. But there's no action by Congress," he continued.
More on that in a moment.
According to the USDA, Chinese landowners control approximately 383,000 acres of U.S. farmland – and their investments are growing, FOX Business' Lydia Hu reported on Monday. Chinese ownership of U.S. farmland jumped more than 20-fold in a decade from $81 million in 2010 to nearly $1.9 billion in 2021.
Hu pointed out that the Fufeng Group, a China-based chemical manufacturing company, bought 300 acres of land for a corn mill in Grand Forks, North Dakota. The location is only 12 miles away from the Grand Forks Air Base, home to U.S. intelligence, surveillance and reconnaissance units, and top-secret drone technology.
Sen. Mike Rounds, R-SD, says "China, the Chinese Communist Party, has increased their holdings of farmland outside of China by 1,000% in the last few years… They own 1,300 egg processing facilities outside of China at a value of $35 billion. Food security is also national security."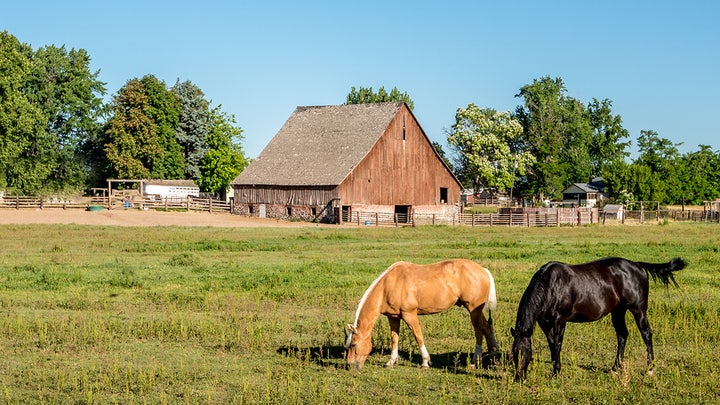 Rounds is one of a group of lawmakers sounding the alarm over the matter. He is leading a bipartisan effort to prevent China and other foreign adversaries from being able to buy into land or businesses involved in U.S. agriculture.
Meanwhile, the U.S. Air Force sent a letter to North Dakota Senator John Hoeven stating: "The proposed project presents a significant threat to national security with both near-and long-term risks of significant impacts to our operations in the area."
Pillsbury reacted to the "chilling" message, saying: "A letter doesn't stop anything."
"That's not the way policy is made… There has to be legal action taken. It has become a crime, for example, to do some of the things that are being done to help China in our country. There's no sign that's happening at all. That's what concerns me the most," he stressed.
Former Trump deputy national security adviser KT McFarland also called for regulations over the issue that she believes is being solved at "our expense."
"China is going to starve us"
House Republicans are pushing to bar any person or business associated with the Chinese Communist Party from purchasing agricultural land in the United States, an effort gaining traction on the Hill as lawmakers look to retaliate against China over its spy-balloon affair.
Clearly, there is no leadership coming from the Biden administration on this matter...or any other matter... except advancing the LGBTQIA+ and abortion agenda.
Reps. Dan Newhouse (R., Wash.) and Cathy McMorris Rodgers (R., Wash.), alongside more than 40 cosponsors, last week proposed legislation that would prohibit any purchase of public or private agricultural real estate in the United States and its territories by "nonresident aliens, foreign businesses, or any agent, trustee, or fiduciary associated with the Government of the People's Republic of China."
The legislation, known as the Prohibition of Agricultural Land for the People's Republic of China Act, would also bar those entities from involvement in Department of Agriculture programs.
It will be very revealing to see who opposes this bill.
Ownership of U.S. farmland by CCP-connected individuals and companies has risen more than 20-fold since 2010.
Newhouse warns that China's investments in other countries' food supplies have enabled Beijing to exert control over those countries—a strategy China is likely pursuing in the United States.
The Senate is considering a similar bill, introduced last week by Sens. Mike Rounds (R., S.D.) and Jon Tester (D., Mont.), that would ban China, Russia, North Korea, and Iran from owning U.S. farmland.
While China owns just a fraction of all U.S. farmland, Republicans warn that Beijing can still wreak havoc by controlling key segments of the U.S. food supply chain. For example, Virginia-based pork giant Smithfield Foods, which employs tens of thousands of Americans, is wholly owned by a Chinese conglomerate that is the largest meat producer in China.
"To allow China, governed by the Chinese Communist Party, to acquire farmland near and around key military and otherwise strategic areas of the United States, is as dumb as it gets," said Rep. David Rouzer (R., N.C.), who co-sponsored the Republican legislation.
God established national sovereignty.
"And hath made of one blood all nations of men for to dwell on all the face of the earth, and hath determined the times before appointed, and the bounds of their habitation" (Acts 17:26).
God designed the individual sovereign nation as the unit of civil government for men. Currently among the 197 sovereign nations on earth today, only one has the design of a constitutional republic, rooted in Biblical principles, to endow its citizens with the liberty of Christian self-government. We have the privilege of living in this unique, God-given nation.
The US Constitution of 1789 secures the sovereignty of the United States by which the philosophy of rights and self-government described in the Declaration of Independence is institutionalized and secured declaring that rights are not given by civil government but from the Creator and are authorized through the consent of the governed.
Our national sovereignty protects and sustains our inalienable rights as American citizens. Globalism is the counterfeit of national sovereignty. As the United States delegates greater levels of decision-making power to international bodies, US citizens will be dispossessed of their rights and liberties proportionally.
Only the US Constitution of 1789, exercised by citizens, guarantees the sovereignty and security of the United States.
Our national sovereignty secures our God-given right to self-government.
Globalism replaces national sovereignty and removes the rights and liberty our nation was designed to employ.
We have the duty, under God to hold fast to the U.S. Constitution of 1789 to guarantee our sovereignty and liberty.
"After this I beheld, and, lo, a great multitude, which no man could number, ( bold this) of all nations, and kindreds, and people, and tongues, stood before the throne, and before the Lamb, clothed with white robes, and palms in their hands" (Rev 7:9).
Be Informed. Be Discerning. Be Vigilant. Be Engaged. Be Prayerful.