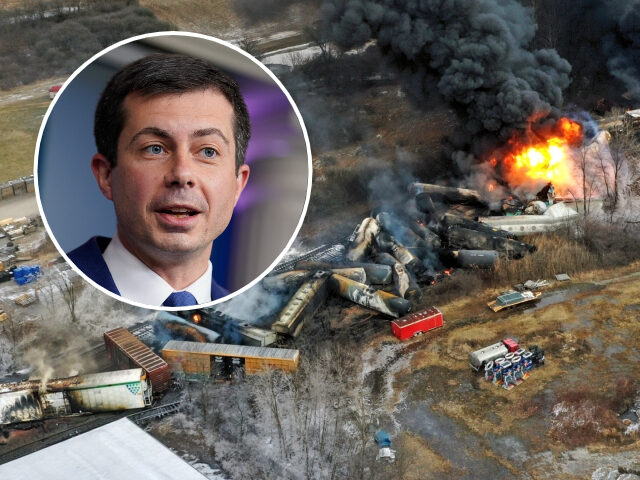 Transportation Secretary Pete Buttigieg is "concerned" by the impacts of the train derailment near East Palestine, he said in a statement late Monday — days after thousands of residents were forced to evacuate their homes due to the release of toxic chemicals.
"I continue to be concerned about the impacts of the Feb 3 train derailment near East Palestine, OH, and the effects on families in the ten days since their lives were upended through no fault of their own," Buttigieg said in a social media update Monday evening.
His inability to function as transportation Secretary is becoming a concern to many---including some Democrats.
While our hearts and prayers go out to those impacted by the train wreck in East Palestine, Ohio, there is an even greater train wreck happening in America, while millions of "progressives" tell each other "everything is just fine."
The current leadership has forsaken our founding principles. And the "emperor" has no clothes.
A closer look.
Be informed, not misled.
The train wreck.
Buttigieg tells the nation, "It's important that families have access to useful & accurate information," before contending there was a swift response to the incident initially.
Well, actually there wasn't a "quick" response initially.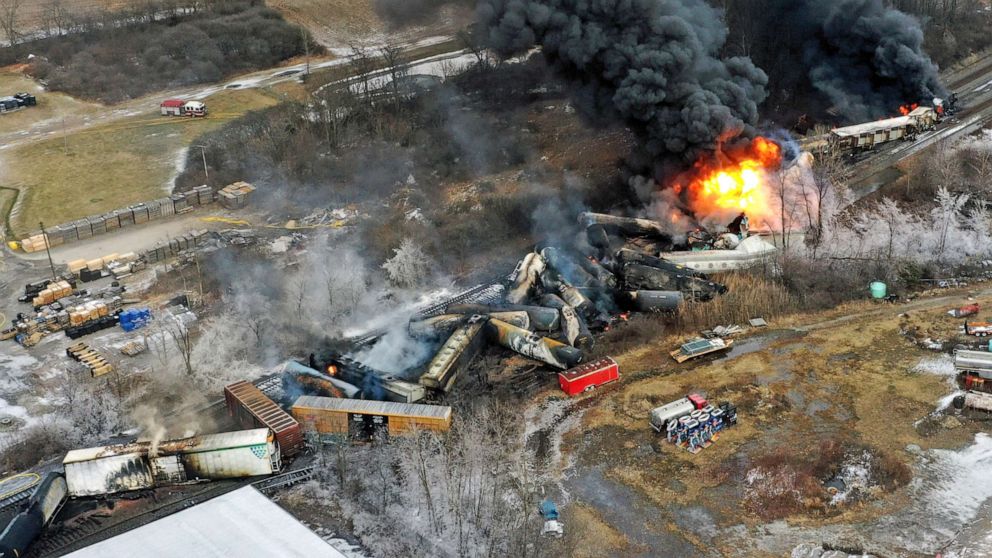 Buttigieg's Monday statement comes well over a week after the initial derailment, which forced residents to evacuate, as the derailed train was carrying toxic chemicals. Nearly a week after the initial derailment, officials gave residents the ok to return home.
A list of the cars involved in the derailment and the products they were carrying, since released by Norfolk Southern, reveals several more toxic chemicals than first made apparent following the crash, according to ABC News.
ABC's headline was, "There were more toxic chemicals on a train that derailed in Ohio than originally reported," data shows.
And that's an understatement.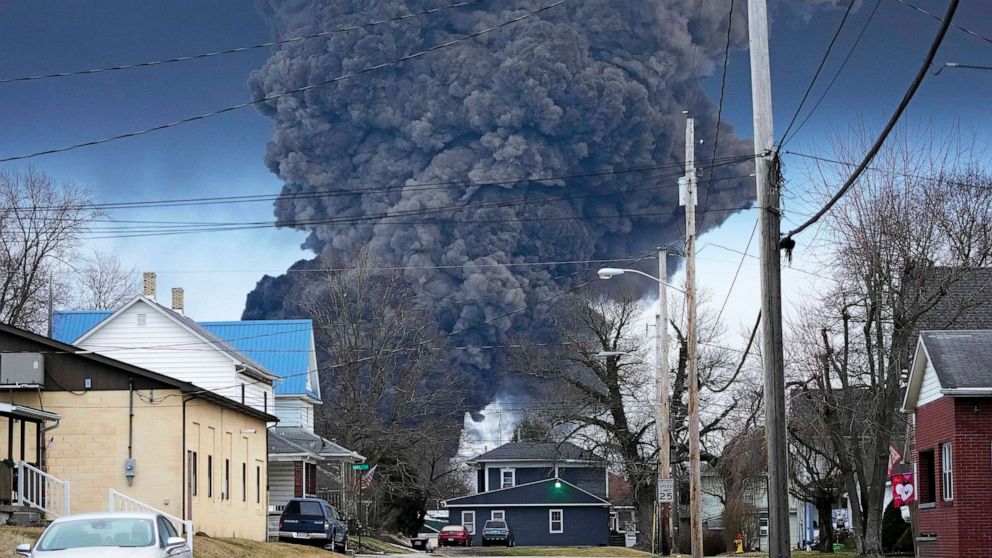 Among the substances were ethylene glycol monobutyl ether, ethylhexyl acrylate, and isobutylene also in the rail cars that were derailed, the ABC News list shows.
Contact with ethylhexyl acrylate, a carcinogen, can cause burning and irritation of the skin and eyes, and inhalation can irritate the nose and throat, causing shortness of breath and coughing, according to the Centers for Disease Control and Prevention.
I'm not suggesting the train wreck was specifically Pete Buttigieg's fault. Clearly, there is much more to be learned about this disaster.
Breitbart News says, "The disaster serves as the latest incident under Buttigieg's watch, prompting critics to point out that the Biden official continues to offer delayed or lackluster reactions, offering vague promises to investigate for issue after issue. The airline fiasco last year, for example, even prompted Democrats to sour on Buttigieg."
The greater train wreck.
Pete Buttigieg is not qualified for his job.
He was the mayor of South Bend, Ind., and has done some adjunct teaching at Notre Dame University.
Merit and ability had no part in his being appointed Transportation Secretary. He is a "married" homosexual---now with adopted children. In Biden's world that is the qualifier.
President Biden has said publicly he is going to lift people to high-level jobs based on their sexual behavior and the color of their skin.
He promised that he would appoint the first black woman to the Supreme Court if elected. What was unsaid is that only leftist, progressive black women be considered. There is no room for highly qualified people who do not fit that matrix of prioritizing race and sexual behavior in leading our nation.
Do you think he gave any consideration to Condoleezza Rice or Sara Parker?
About racism and reverse racism.
Ward Connerly is one of the most prominent leaders of the drive to eliminate affirmative action policies in the United States. A Republican businessman of mixed-race heritage, Connerly gave little attention to the issue of racial preferences until 1993 when he was appointed to the Board of Regents of California's public university system. Connerly was approached by the parents of a young white man who was rejected by one of the state's medical schools. Connerly investigated, and decided that California's practice of affirmative action in education amounted to "reverse racism."
Since then he has dedicated his life's work to restoring America's identity.
The title of his speech at Harvard University, and on other occasions is the point: "America: A Nation of Equals."
That was the founding principle of America. It is a biblical principle.
Now, "equality" has been replaced by "equity" which sheds the role of humans and assumes the role of God.
Connerly's crusade against affirmative action has made him an icon of the conservative right.
To my knowledge, Connerly does not claim to be a Christian, but he is a deeply committed conservative.
William F. Buckley Jr. called him "the high priest of equal treatment, and the targeted enemy of the preference brigade." Connerly has been accused, as a black businessman, of benefitting from the very minority-contracting policies that he attacks. But Time Magazine journalist Eric Pooley reports that "these charges don't hold up under scrutiny."
In a front-page profile, New York Times writer Barry Bearak described Connerly as an activist driven by principle, an "extravagantly patriotic" man who says he silently recites the Pledge of Allegiance and parts of the Declaration of Independence every day.
Connerly gave the speech linked above at Harvard University's Kennedy School of Government before a standing-room-only crowd. The forum's moderator instructed the audience to respect Connerly, a controversial conservative speaking on a predominantly liberal campus. According to the Harvard campus newspaper, many students were more offended by remarks made introducing Connerly than by the speaker himself.
Government professor Harvey C. Mansfield described Connerly as belonging in the company of "the greatest black thinkers" and noted that such thinkers, including Martin Luther King Jr. and Malcolm X, often disagreed. When Connerly took the podium he politely reproached Mansfield for suggesting that his skin color should be a factor in a public policy debate. "It should not be relevant," Connerly said.
I would recommend you read at least a portion of his speech linked above. It profiles "equality" and dismisses "equity" as something other than "civil rights."
About gender dysphoria and "trans-America."
If trans-America were a highway, it would be a highway to hell. And personal destruction.
Trans-America has become one of President Biden's highest priorities as President: Push as many transgender people to the top as possible.
Yesterday the Washington Stand published an in-depth, highly sourced article about the corruption and deception in the so-called "transgender" medical business.
Jamie Reed, a far-Left LGBTQ activist and now whistleblower tells the Stand, "Given the secrecy and lack of rigorous standards that characterize youth gender transition across the country, I believe that to ensure the safety of American children, we need a moratorium on the hormonal and surgical treatment of young people with gender dysphoria."
I won't take the time here to summarize the article, but I recommend you read it.
President Biden has appointed Dr. Rachel Levine---a transgender doctor---to the office of assistant Sec. of Health and Human Services.
During the Senate hearing Sen. Rand Paul, himself a doctor, repeatedly ask Levine if she (he) would advocate and promote the transgender movement.
In every case, she (he) refused to answer.
Finally, after repeated questions and refusals to answer, Sen. Patty Murray, the chairwoman of the Senate Committee on Health, Education, Labor, and Pensions, told Paul that his line of questioning was inappropriate and wrong.
"It is really critical to me that our nominees be treated with respect and that our questions focus on their qualifications rather than ideological and harmful misrepresentations​ like those we heard from Sen. Paul earlier and I will focus on that as chair of this committee," Murray (D-WA) said​.​
Since being confirmed to the position, Levine is doing exactly what Rand Paul feared she (he) would do.
Takeaway.
The greatest train wreck of all time is just ahead unless we change course and return to our founding principles.
Founding Father John Adams said, "Statesman, my dear sir, may plan and speculate for liberty, but it is religion and morality alone, which can establish the principles upon which freedom can securely stand."
Be Informed. Be Discerning. Be Vigilant. Be Engaged. Be Prayerful.