House Oversight Committee Chair James Comer (R-KY) has subpoenaed the FBI for records alleging a criminal scheme involving then-Vice President Joe Biden,
The document, an FBI-generated form, allegedly details an arrangement involving an exchange of money for policy decisions between the vice president, now-President Biden, and a foreign national. Comer issued a subpoena Wednesday following legally protected disclosures to Sen. Chuck Grassley's (R-IA) office.
This is breaking news. And it's something "the people" should know about.
Be informed, not misled.
The issue with corruption and the Biden family business.
The demand comes just one month after Comer warned that Republicans' "investigation into Biden's corruption 'doesn't look good for POTUS'."
The Federalist is calling it a bribery scheme.
The record reportedly details the former vice president's arrangement to receive money in exchange for pushing certain policy positions. The Republicans were only made aware of Biden's potential criminal enterprise because of an unnamed whistleblower.
"The information provided by a whistleblower raises concerns that then-Vice President Biden allegedly engaged in a bribery scheme with a foreign national," Comer announced in a press release yesterday. He said, "The American people need to know if President Biden sold out the United States of America to make money for himself."
Grassley's press release is very informative.
Breitbart News says, "Comer issued a subpoena Wednesday following legally protected disclosures to Sen. Chuck Grassley's (R-IA) office."
Comer and Grassley also wrote to Attorney General Merrick Garland and FBI Director Christopher Wray:
We have received legally protected and highly credible unclassified whistleblower disclosures. Based on those disclosures, it has come to our attention that the Department of Justice (DOJ) and the Federal Bureau of Investigation (FBI) possess an unclassified FD-1023 form that describes an alleged criminal scheme involving then-Vice President Biden and a foreign national relating to the exchange of money for policy decisions. It has been alleged that the document includes a precise description of how the alleged criminal scheme was employed as well as its purpose.

Based on the alleged specificity within the document, it would appear that the DOJ and the FBI have enough information to determine the truth and accuracy of the information contained within it. However, it remains unclear what steps, if any, were taken to investigate the matter. The significant public interest in assessing the FBI's response to this information, as well as growing concern about the DOJ and the FBI's track record of allowing political bias to infect their decision-making process, necessitate exacting congressional oversight.

The DOJ and the FBI appear to have valuable, verifiable information that you have failed to disclose to the American people. Therefore, Congress will proceed to conduct an independent and objective review of this matter, free from those agencies' influence.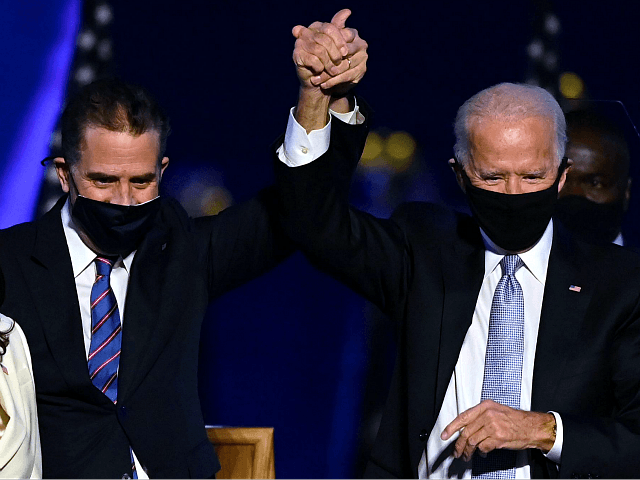 Joel Pollak wrote in March that there was evidence supporting the impeachment of President Biden for bribery:
Hunter Biden's overseas business ventures had been recognized as early as 2015 as a potential conflict of interest for his father. Diplomats and journalists questioned Hunter Biden's appointment to the board of Ukrainian energy company Burisma, where he earned $83,333 per month, despite lacking relevant expertise, while his father was in office.

Those concerns were brushed aside, however, by the vice president's office, and the issue was never resolved. Hunter Biden also connected other foreign business associates with his father, including Chinese associates.

The criminal statute of bribery describes giving "anything of value" to an official to "influence" him or her in performing any "official act." The fact that the "thing of value" might have flowed to Biden's friends and family, rather than to Biden himself, would not absolve him — and there is evidence that the senior Biden benefited from his family's gains.
The other issue of corruption.
Considering the FBI's own long history of corruption and politicization, Grassley and Comer said they do not trust the FBI to properly investigate whether Biden is compromised by a foreign enemy.
Grassley says, "What we don't know is what, if anything, the FBI has done to verify these claims or investigate further. The FBI's recent history of botching politically charged investigations demands close congressional oversight."
The Federalist says:
The House Oversight Committee under Comer has already sifted through thousands of pages of financial records related to the Biden family business and confirmed in March that several Biden family members, including Hunter Biden, James Biden, Hallie Biden, an unknown "Biden," and companies linked to the family "collectively received $1.3 million in payments from accounts related to Rob Walker, a Biden family associate," whose company was being paid millions by Chinese firm State Energy HK Limited.
They say within six months of Biden departing the Obama White House and after several bank transfers, the Biden family received the money.
Comer said in April that his committee still did not know who the unnamed Biden was in the China transaction because the Biden family holds so many bank accounts and LLCs.
No, this is not looking good for the President of the United States.
Takeaway
Bribery and treason are two crimes specifically mentioned in the Constitution as impeachable offenses.
Biden could be impeached retroactively, following a precedent set by Democrats in their second impeachment trial of President Donald Trump in 2021.
The administration will have difficulty sweeping this under the proverbial "rug."
Be Informed. Be Discerning. Be Vigilant. Be Engaged. Be Prayerful.