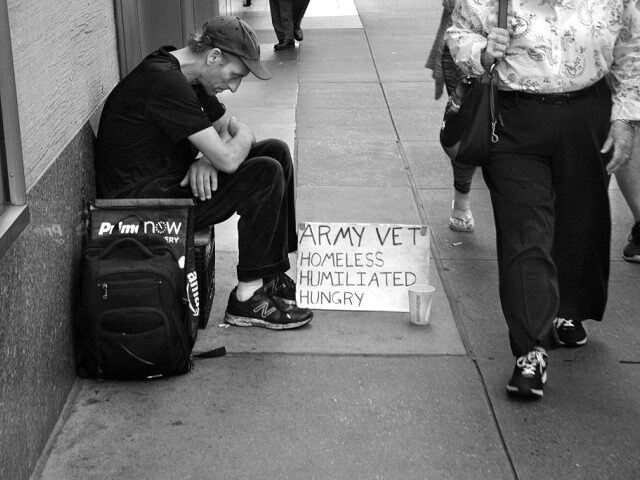 Upstate New York hotels began kicking homeless veterans from their properties to make room for migrants being bused to the region from New York City. The homeless veterans, many Vietnam-era veterans, were receiving temporary shelter in the hotels through the efforts of a nonprofit agency.
The Left has lost its way.
So-called "progressive" ideology and its relativism are destroying our country.
Be informed, not misled.
Veterans getting the boot.
Nearly two dozen homeless veterans "have been booted from the upstate hotels to make room for migrants."
One of the hotels told a 24-year-old Afghanistan war veteran in desperate need of help that their temporary housing was being pulled out from under them at the beginning of the week, and they would have to move elsewhere.
"Our veterans have been placed in another hotel due to what's going on with the immigrants,'' said Sharon Toney-Finch, the CEO of the Yerik Israel Toney Foundation.
Toney-Finch, a disabled military veteran, created YIT to raise awareness of premature births and help the homeless and low-income military service veterans in need of living assistance.
Nearly two dozen struggling homeless veterans have been booted from upstate hotels to make room for migrants.
Toney-Finch said 15 of the veterans got the heave-ho from the Crossroads Hotel in Newburgh about 60 miles north of New York City in Orange County — a new epicenter of Big Apple's migrant crisis since Mayor Eric Adams began bussing Gotham's overflow there against local officials' wishes.
Even New York Democrat Congressman Pat Ryan, whose 18th congressional district covers the northern suburbs and exurbs of New York City, took to social media to condemn the "incompetence" of city officials in displacing the homeless veterans.
Tooney-Finch said the hotel made the move to expel the veterans based on money. "They get paid more [for the migrants]," she stated. "That's so unfair, because at the end of the day, we are a small nonprofit, and we do pay $88 a day for a veteran to be there."
Shining a light on the abuse of our veterans.
"A lot of them are Vietnam veterans. We do help them on a constant basis to get them benefits and help them find a place in society," Tooney-Finch says.
State Assemblyman Brian Maher, a Republican who helps rep Orange County, said, "Shining a light on this is important because we need to make sure these hotels know how important it is to respect the service of our veterans before they kick [them] out of hotels to make room."
"They really ought to think about the impact on these people already going through a traumatic time,'' he told The Post.
"Whether you agree with asylum-seekers being here or not, we can't just ignore these veterans that are in our charge that we are supposed to protect: the New Yorkers and Americans."
"We need to put them first."
It appears it all comes down to money.
While it's unclear what the city is paying upstate, various reported deals between the Big Apple and Manhattan hotels have called for payments such as $190 a night — part of an estimated $4.3 billion migrant price tag for taxpayers through spring 2024.
Maher said it's outrageous that veterans are getting caught in the crossfire of the migrant crisis.
Indeed it is.
The veterans lay it all on the line to protect our country, while some in our country give them the boot for a few bucks.
Judas comes to mind.
To all veterans: "Thank you for your service."
God bless you.
Be Informed. Be Vigilant. Be Discerning. Be Engaged. Be Prayerful.