A federal judge ruled Wednesday that students of the opposite biological sex must be allowed to share shower spaces and dorms at a Christian college in Missouri.
LGBTQ+ activists have been celebrating Biden's election as a "big win"---"of great significance."
Pressure is mounting against the most basic, historical understanding of humans being identified as "male" or "female." And against every institution that teaches that universal Truth.
Whether it's a small Christian college in Missouri or Baylor University, Biden and his activist allies have placed a target on them, and the biblical beliefs they hold.
Be informed, not misled.
A federal judge ruled Wednesday that students of the opposite biological sex must be allowed to share shower spaces and dorms at the College of the Ozarks, a Christian college that had sued President Joe Biden's administration over its transgender discrimination policies.
You will remember that back on January 20, on Biden's first official day in office, he signed an executive order which prevented schools from denying children access to bathrooms of their choosing.
Julie Marie Blake, senior counsel for the Alliance Defending Freedom (ADF), told reports following the ruling, "Women shouldn't be forced to share private spaces, including showers and dorm rooms with males, and religious schools shouldn't be punished simply because of their beliefs about biological sex."
This is true and most normal Americans understand that "male and female" is a fundamental biological truth. And most biblical Christians further understand that God ordained, in Creation, the norm of "male" and "female" and that is also a fundamental biblical Truth.
And it isn't difficult to identify which is which.
Blake says, "The Biden administration's overreach continues to victimize women, girls, and people of faith by gutting their legal protections, and it must be stopped."
The lawsuit
The College of the Ozarks filed the lawsuit against Biden and HUD in April, two months after Biden signed his order.
The school argued that the government cannot force a private religious school to place biological males into female dormitories.
Biden's government says "yes, we can."
Lawsuits are expensive, and so are the penalties for not agreeing with Biden's mandate---for holding religious views that conflict with the government's views.
In fact, the school faces six-figure fines if it continues to violate Biden's order.
Supporters, of course, are applauding the ruling saying, "It is of great significance to the LGBTQ community that on their first day in office, this administration made it clear that discrimination has no place in the federal government."
However, discrimination is given a prominent place if it's directed at religious freedom, and biblical beliefs.
Lawyers for the school say this ruling "chips away" at Title IX protections that women and girls have enjoyed for 50 years.
The Christian college plans to appeal---"We will continue to fight."
About Baylor University and "chipping away."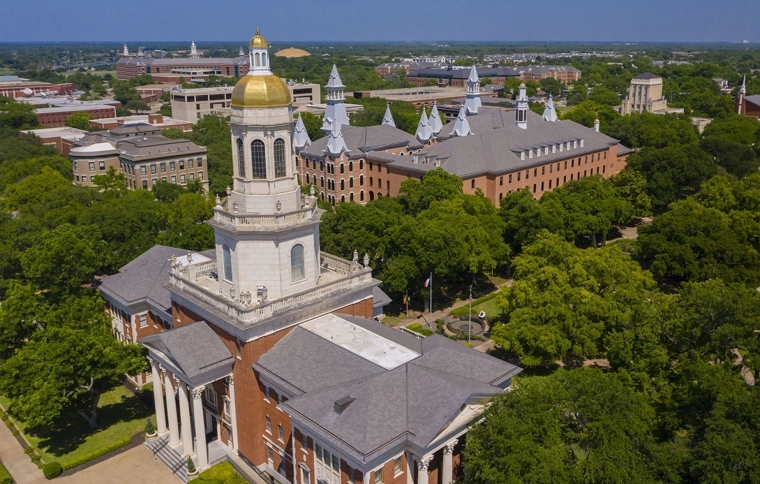 Baylor University, one of the world's largest Baptist universities, is responding differently than College of the Ozarks to LGBTQ pressure.
They have "opened the door to possibly providing official campus recognition to the LGBTQ-identifying students."
The board of regents has charged Linda Livingstone and the university administration "to determine the appropriate pathways to provide additional care, connections, and community for Baylor's LGBTQ students, including the possibility of establishing a new, chartered student group that is consistent with Baylor's core commitments."
That will be impossible. A house divided cannot stand. It will either collapse or will come to embrace one world view or the other.
Baylor's resolution actually greenlights a path to recognizing an organized group of LGBTQ activist students.
A student group that fundamentally rejects Baylor's stated core beliefs on human sexuality.
This is a first step at "chipping away" at crucial theological foundations.
Al Mohler, president of the Southern Baptist Theological Seminary, said this week that "if an institution of higher education is not clear about what it believes and what those convictions require" and "it actually begins to recruit students or even accept students who hold to a contrary view and then allows official recognition of that group...you have just sown the seeds for the revolution of your own institution."
I believe they have sown the seeds.
In 2015 the university changed its sexual misconduct policy, taking out the language on "homosexual acts."
In 2019 an unofficial LGBTQ student group collected over 3,000 supportive signatures from alumni, faculty, and other students seeking charter status from the school.
When Oral Roberts University men's basketball team made it to the "Sweet Sixteen" in the national basketball tournament this year---all hell broke out against them because of their unwavering position on biblical on marriage and human sexuality. Both print and broadcast sports news were highly critical of them.
Baylor, who also made it to the Sweet Sixteen, were not attacked like ORU.
ORU was defeated in the Sweet Sixteen round---Baylor was not defeated and moved up in the tournament, ultimately winning the national championship.
Their reasoning, I'm sure, includes some thoughts about what they would have endured had they not been incrementally, step by step, succumbing to the pressure that demands submission under the banner of compassion and inclusion and love.
Christian institutions---churches and schools across our nation are caving to the demands of the LGBTQ movement. But not all are.
A good number of institutions are taking a stand. They are proclaiming that whatever the cost, they will, with God's help, stand for biblical Truth.
No one is denying that Baylor is facing incredible pressure. But neither can anyone deny that they are caving to that pressure, step by step by step.
My observation, having spent a great deal of time in campus ministry, is that LGBTQ groups are always activist, and always persistent in their incremental demands.
Misled and rejected.
Baylor, which has over 14,000 enrolled undergraduates, has become double-minded and will become unstable.
The board has repeated that while they move toward legally, officially, and publicly recognizing the activist homosexual community on their campus, they "reaffirm" their "core commitments" including the biblical understanding that sexual relations of any kind outside marriage between a man and a woman are not in keeping with the teaching of Scripture."
This is a Laodicean (Rev. 3:16) attempt at being lukewarm, to which Jesus says, He will "vomit...out of My mouth."
To the faithful church (Rev.3: 8), He says, "I have set before you an open door, and no one can shut it; for you have a little strength, have kept My Word, and have not denied My Name"...then continues to explain the blessings that follow such faithfulness.
Psalm 93:16, 17: "Who will rise up for me against the evildoers? Who will stand up for me against the workers of iniquity? Unless the Lord had been my help, my soul would soon have settled in silence."
Ecclesiastes 3:7 tells us, "There is a time to keep silence, And a time to speak."
This is a time to speak.
Be Informed. Be Discerning. Be Bold. Be Faithful. Be Prayerful.